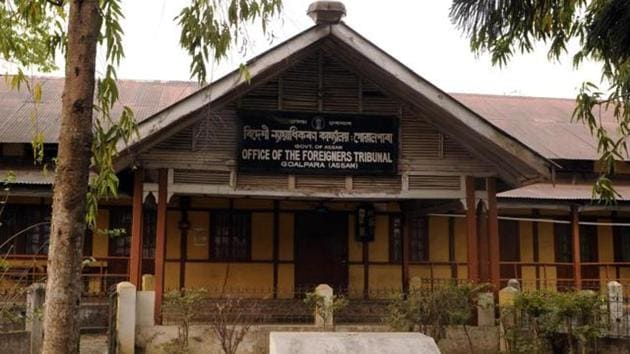 Assam awaits Centre's fund for foreigners detention centre in Goalpara
The state's home and political department had given its nod to the project in early 2016 to lodge detected foreigners awaiting deportation. There are over 90,000 declared illegal migrants in Assam.
Hindustan Times, Guwahati | By Sadiq Naqvi
PUBLISHED ON APR 04, 2018 10:47 AM IST
The Centre is yet to sanction funds for the proposed full-fledged foreigners' detention center in Goalpara, officials in the Assam government say.
The state's home and political department had given its nod for the construction of a new detention centre in early 2016 and asked the office of the chief of the border branch of the Assam Police to prepare a project report.
"These are declared foreigners and not convicts," principal secretary, home and political department, Sweety Changsan says explaining why the state government wanted the detention centre.
There are over 90,000 declared illegal migrants in Assam out of which over 1500 are currently in detention in six already overcrowded jails across the state. These jails double up as detention centres.
The number of declared foreigners is expected to rise once the ongoing National Register of Citizens exercise gets completed in June this year.
The NRC is being updated to detect illegal foreigners settled in the state.
Several politicians, including senior state cabinet minister Himanta Biswa Sarma, have said that the state would urge the Centre to discuss deportation of declared foreigners with neighbouring Bangladesh once the NRC is completed. But if data is anything to go by, it is highly unlikely. The data with the Assam police shows only two declared foreigners have been deported to Bangladesh since 2013.
Meanwhile, a detailed project report of the proposed centre which is to be constructed in two phases was sent to the home ministry for approval.
"There were some technical issues regarding the costs which were clarified," an Assam Police official said.
The total cost of the detention centre was pegged at over Rs 47.8 crore. The technical issues were clarified in November last year.
The proposed detention centre under Goalpara's Matia police station is expected to house 3,000 detainees.
According to officials, 20 bighas of land has already been allotted for the project by the Goalpara district administration.
"It has been under review for a couple of months. We hope it will be sanctioned soon," Changsan said.
Close