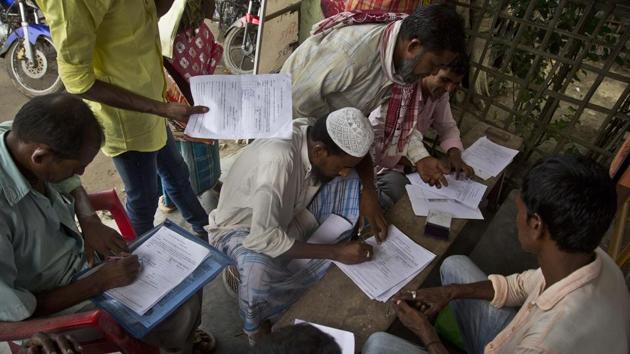 Assam govt demands re-verification of NRC draft
The court had earlier said that it was considering the necessity of re-verification of at least a 10% sample of those who have been included from every district.
Hindustan Times, Guwahati | By Sadiq Naqvi
UPDATED ON NOV 01, 2018 01:53 PM IST
The government in Assam has reiterated its demand for a sample re-verification to ascertain the credibility of the complete draft National Register of Citizens (NRC), citing flaws in the design of the process and possible misuse of documents by illegal immigrants.
A similar demand for a complete re-verification has been made by the Assam Public Works in the Supreme Court.
"The recent report submitted by state coordinator to the Supreme Court is an admission of the lacunae in the design of the exercise," LS Changsan, principal secretary at the home and political department, said on Wednesday, adding the state government has submitted an affidavit in the Supreme Court which is monitoring the process.
The Supreme Court has asked all stakeholders to submit their views on a recent report by Prateek Hajela, the state coordinator of NRC, where he explained why only 10 of the 15 documents that were initially accepted to establish residence in Assam prior to March 25, 1971, could be submitted afresh in the claims and objections phase.
Hajela cited some instances of how the additional five documents, including ration cards, refugee registration and citizenship certificates, can be forged and extracts of the 1951 NRC and electoral rolls up to March 25, 1971, also called legacy data, could be misused to get illegal migrants into NRC.
A person can have more than one legacy data code and unused codes could be used by imposters, Hajela said in his report.
"For the first time, we have come to know the procedures that were followed. In his report, the state coordinator has raised certain apprehensions of probable misuse of some documents. It is safe to conclude that the said misuse in all likelihood has already happened," Changsan said.
He added it was possible that "impostors may have already got into NRC using unused legacy data codes, something which could not have been detected in the family tree verifications". "It is a big design flaw," he said.
"This is why we are asking for a sample re-verification before the claims and objections phase. And if that throws up startling anomalies than there should be a complete re-verification," Changsan said adding that Hajela's report was "based on a lot of assumptions."
The state government also remains firm on its stand to allow all 15 documents for the claims and objections exercise. "Going by the principles of natural justice and non-discrimination we are asking that all documents should be allowed subject to stringent verification," Changsan said.
Abhijeet Sarma of the Assam Public Works, the main petitioner in the case, said they are going to demand a complete re-verification in 22 districts.
"Khairul Islam, a declared foreigner was found on NRC duty," Sarma said.
Meanwhile, minority groups say more than Rs 1,200 crore spent on NRC may have gone down the drain.
"The whole point of spending so much money was to ensure nobody with fake documents manages to get past. Hajela is trying to hide his failures. If people misused documents why no police action against them? He is generalising based on a few instances," Azizur Rahman, the convener of Coordination Committee of Minority Organisations, said.
The top court had said earlier, after going through the district wise details of the 40,07,707 excluded from the complete draft, that it was considering the necessity of re-verification of at least a 10% sample of those who have been included from every district.
The court had asked Hajela to submit a report on the time frame for such an exercise.
Close