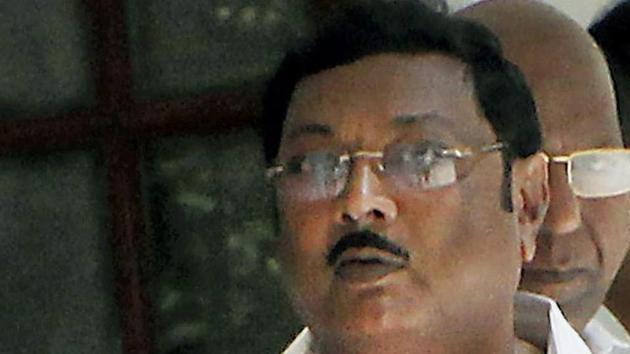 Azhagiri meeting supporters to discuss launching new political party
Azhagiri says he wants to come back to DMK and accept younger brother Stalin as his leader.
Hindustan Times, Chennai | By M Manikandan
UPDATED ON SEP 14, 2018 09:36 PM IST
M K Azhagiri this week secretly met his supporters in key Tamil Nadu districts to discuss plans to form his own political party after his younger brother MK Stalin refused to take him back in the Dravida Munnetra Kazhagam (DMK).
The DMK expelled Azhagiri in 2014 for disciplinary reasons. His supporters say Azhagiri was forced to consider launching his own political outfit because Stalin, as DMK president, didn't respond to his overtures after their father M Karunanidhi's death on August 7. Azhagiri had said that he would accept Stalin as his leader but he was rebuffed, supporters said.
Isakki Subbaya, a political aide of Azhagiri, said on Friday that discussions are on to launch a new organisation called Kalaignar Ezhuchi Peravai (Kalaignar Renissance Organisation). Karunanidhi was fondly called Kalaignar (the artiste) by the DMK cadre.
"Our leader is discussing the next steps. We have already shown our strength by conducting a peace rally (in Chennai) on September 5 to remember the 30th day of our president Karunanidhi's demise. Soon we will launch an organization called Kalaignar Ezhuchi Peravai," Subbaiyah said.
Azhagiri, however, said Subbaiya was speaking for himself. "I have revealed my stand many times. I want to work with the DMK. People who are administering DMK should respond to my proposal," said Azhagiri.
Sources close to Azhagiri said that the he has held secret meetings with his supporters to discuss the launch of a new organisation. "As of now, supporters from Trichy, Kanchipuram, Sivaganga, Theni, Madurai, Ramanathapuram, and Thanjavur have taken part in the meetings. Theni district supporters met Azhagiri on Thursday and urged him to launch a party or organisation for the Thirupparankundram and Thiruvarur assembly by-elections," said a top Azhagiri loyalist who didn't want to be named.
"He asked us to wait for some time until the unveiling of the bronze statue of Karunanidhi in December (in Madurai)."
Azhagiri's loyalists said he doesn't want plans to be leaked. "Even now the first option is to join DMK. But if that is not possible then, he will launch his own party," said another loyalist who did not want to be named.
Tharaasu Shyaam, a political analyst in Chennai, said Azhagiri's party will face challenges.
"Azhagiri does not say anything clearly about what his new party/organization will stand for. In case he does launch a party, it will have no impact except in the four southern districts of Tamil Nadu," he told HT.
Shyaam said Azhagiri's first test, if he forms his own party, would be the upcoming Thiruvarur and Thirupparankundram by-elections. The constituencies fell vacant after the death of M Karunanidhi and AIADMK's AK Bose.
Close