On Saturday, five people were reportedly held for hurling slipper at Tamil Nadu finance minister's car at Madurai airport.

Updated on Aug 14, 2022 12:56 PM IST
Written by Manjiri Sachin Chitre | Edited by Swati Bhasin
"As Charak oath was given instead of the Hippocratic Oath, Dr A Rathinavel, dean, Madurai Medical College, has been relieved of his post and placed on a waiting list," said a statement by Ma Subramanian, the Tamil Nadu health minister, who ordered the action against the dean.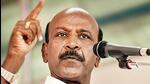 Updated on May 02, 2022 06:50 PM IST
According to the family member of one of the deceased, the workers were brought in on Thursday night to remove a blockage in the motor located inside the 30-foot deep sewage tank at a pumping station in Palanganatham.

Published on Apr 23, 2022 02:19 AM IST
Huge crowds were seen in attendance as the annual chariot festival processions were carried out in the southern state.

Published on Apr 16, 2022 12:21 PM IST
Written by Manjiri Sachin Chitre | Edited by Chandrashekar Srinivasan
The festival - which is celebrated during the Tamil month of Chithirai - saw muted celebrations for two years due to the coronavirus pandemic.

Updated on Apr 15, 2022 02:20 PM IST
By
HT News Desk
| Written by Manjiri Sachin Chitre | Edited by Swati Bhasin