Banking on weekend, exchanging notes: A guide to what (and what not) to do
Updated on Nov 12, 2016 12:03 PM IST
The Reserve Bank of India might have said there is enough cash in the country for the exchange of Rs 500 and Rs 1000 notes, but that has failed to rein in the dash of customers.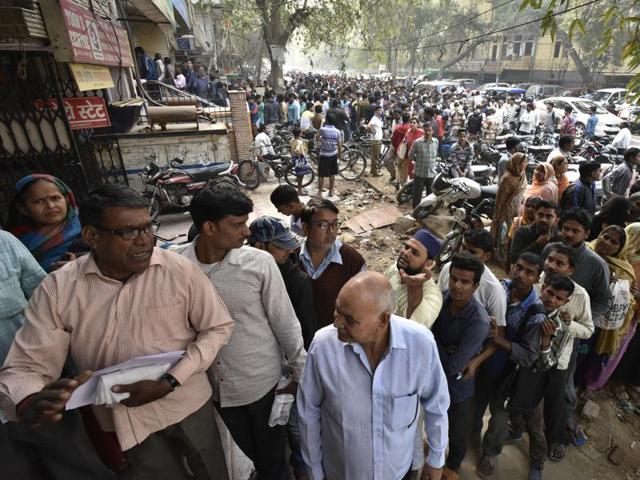 Hindustan Times |
, New Delhi
HT Correspondents
The Reserve Bank of India might have said there is enough cash in the country for the exchange of Rs 500 and Rs 1,000 notes, but that has failed to rein in the chaos triggered by a dash of customers.
With little money at hand following a shock decision by the government to scrap the Rs 500 and Rs 1,000 banknotes, people have been queuing up in front of banks since early morning for the past two days.
This weekend, the situation is expected to be chaotic — yes, bank employees are working this Saturday and Sunday. If you are planning to try your luck today, here's some information that you might find helpful. So, let's crack the exchange formula.
Read | No new cash? Here are 5 things you need to do today to survive
First, what RBI says:
According to the central bank, it has made arrangements to distribute money in new Rs 2,000 and other denominations across the country. The facility for exchanging the withdrawn denominations of Rs 500 and Rs 1,000 is available for nearly 50 days. "The Reserve Bank appeals to members of public to be patient and urges them to exchange their old notes at their convenience, any time before December 30, 2016."
Withdrawal from ATMs: Rs 2,000 per day per card till November 18. From November 19, it will be revised to Rs 4,000.
Withdrawal from banks (cheque/withdrawal slips): Rs 10,000 per day per branch, up to a maximum of Rs 20,000 in a week (including ATM withdrawals till November 24).
Read | Don't panic, your hard earned money safe: Govt assures people
ATM trouble
The central bank conceded that it may take a while for banks to recalibrate ATMs. And once that is done, "members of public will be able to withdraw from ATMs up to a maximum of Rs 2,000 per card per day up to November 18, 2016". After that, they will be able to withdraw up to Rs 4,000 a day per card.
Read | ATMs run dry as people make a dash for cash after demonetisation move
A word of advice
Let panic not take over you. Demonetisation of 500 and 1000 rupee banknotes will not sweep away your legitimate money. Don't rush because all banks will remain open on weekend, including the public holiday for Guru Purab (November 14). Banks are open till 9pm.
Proof of identity
When you are visiting the banks, don't forget to carry any one of the following: Aadhaar Card, driving license, voter ID card, passport, NREGA card, PAN card, identity card issued by government department, PSU to its staff. Carry a photocopy of the document also.
If you aren't in the country or hold an NRI/NRO account, you can authorise someone to deposit the notes. Deposits can also be made in NRI/NRO accounts.
ATM fee
The current levy on more than five transactions has been waived.
Exchange
You can exchange old 500 and 1000 banknotes for up to 4000 only till December 30 at bank branches, offices of RBI and branches of commercial banks/RRBS/cooperative banks or at any head or sub post office. If you have more money to exchange, it will be credited to your account.
Read | Chaos reigns at banks, ATMs as people rush to ditch worthless banknotes
Pre-2005 banknotes of 500 and 1000
All notes, including pre-2005 banknotes of 500 and 1000 can be exchanged/deposited
Need I go to my bank branch only?
For exchange up to 4,000 in cash, you may go to any bank branch with valid identity proof. For exchange over 4,000, which will be credited to your account only, you may go to the branch where you have an account or to any other branch of the same bank. In case you want to go to a branch of any other bank where you are not maintaining an account, you will have to furnish valid identity proof and bank account details required for electronic fund transfer to your account.
Relative/friend's account
You can get the notes exchanged in a relative/friend's account if the account holder gives you permission in writing. You will need the evidence of permission and your valid identity proof.
Representative
If it is not possible for you to visit the branch you may send your representative with a written authorization. The carrier must also carry his/her valid ID proof.
RBI helpline
You can write to publicquery@rbi.org.in or call 022-22602201/022-22602944 (Source: www.rbi.org.in)
Utility move
The government has extended the suspension of toll collection on national highways across the country till November 14. It also extended the use of Rs 500 and Rs 1000 notes for payment of court fees, water and power bills and purchases at Kendriya Bhandrars on production of id card till the midnight of November 14.
Also Read | Deposits above Rs 2.5 lakh to be taxed, mismatch with income to draw penalty