Chaos reigns at banks, ATMs as people rush to ditch worthless banknotes
Hindustan Times |
, New Delhi/mumbai
Mahua Venkatesh and Beena Parmar
Nov 11, 2016 08:10 AM IST
Indians woke up on Thursday to chaos and confusion. It was easy to spot banks, ATMs and post offices in any town, big or small.
Winding queues of angry and panicking customers formed outside banks and post offices across India on Thursday, as millions of people tried to exchange banknotes the government abruptly pulled out of circulation in a crackdown on "black money".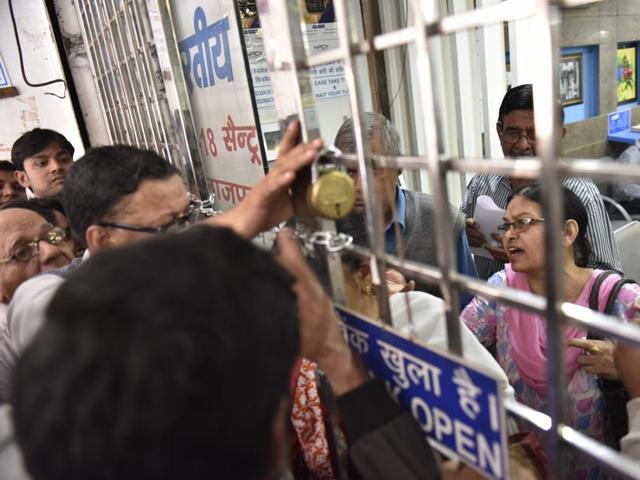 At places, banks called in police or closed down for the day to cope with the crush of customers. Scenes of chaos and brawling were reported from all over the country, indicating the authorities were probably underprepared for the currency switch Prime Minister Narendra Modi announced on Tuesday.
Some banks opened late, staggered the entry of customers or ran out of cash within hours. Filing forms and other formalities for an exchange led to longer queues and patience running thin.
"This is madness! What if Rs 100 notes finish at the bank? I will have to go to another bank, but that, too will have a long queue," said 50-year-old Hiten Bhagat, who had reached the HDFC Bank in south Delhi's GK-2 locality at 9 am to find more than 50 people ahead of him..
Some people frustrated by the long wait got into arguments at Canara Bank near the parliament building, as people barged into queues that spilled on to the street outside. Branch manager S.K. Verma, unable to get through to the local police station, called an emergency hotline for help.
"I want two policemen deputed outside my branch!" he said. Twenty police stood outside a nearby outlet of the Reserve Bank of India letting in customers a few at a time.
People have until December 30 to deposit or exchange their worthless 500-and 1000-rupee notes for smaller bills or the new 2000-rupee note that is expected to make counterfeiting harder.
State-run banks saw an average of 300,000-400,000 transactions to exchange banned notes, government sources said. No consolidated figures were available for deposits. Transactions also said to be brisk in private banks.
People are allowed to make a one-time exchange of 4,000 rupees in cash and one-time account withdrawals of 10,000 rupees, capped at 20,000 rupees per week. There is no limit on amounts that can be deposited.
The government said it was focussing on "normalising" the situation.
"There have been some problems. There have been long queues in some places but we laud the people as they have been extremely patient," Shaktikanta Das, economics affairs secretary, told HT.
It was unclear how many banks across the country -- particularly in rural areas -- had received the 2,000-rupee note, which became an object of fascination on social media, with some people who for them posting 'selfies' with it.
Meanwhile, scenes of chaos outside banks were reported from almost every corner of the country.
In Jharkhand, Ranchi's Old HB road was choked for hours after the queues wound around banks onto the main road even before the banks opened. Similar traffic chaos was reported from Guwahati, Bhopal and Jaipur.
"I am left with no money to buy grocery… I am standing in the queue from 9am. I first deposited the money and now I am going to withdraw cash," said Pyara Singh, 80, of Kansal village near Chandigarh.
Many, especially the poor with no bank accounts, complained it was tough to get through the next few days with the cash restrictions.
"Four thousand rupees will hardly suffice. I will have to keep going to the bank every day from now -- stand in long queues every day," said Jugal Kishor, a resident of Shalimar Bagh in West Delhi, who has to make payments for his daughter's wedding.
(With agencies and HT correspondents)