Beef fest organised in Aizawl to coincide with Rajnath Singh's visit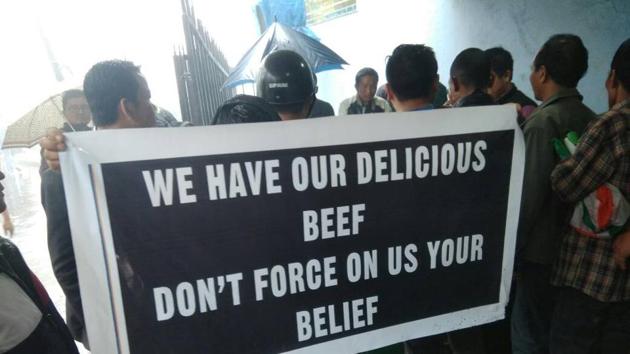 Updated on Jun 12, 2017 11:41 PM IST
Irked by the Centre's notification banning cattle trade in animal markets for slaughter, a group in Mizoram's capital organised a beef fest on Monday to coincide with Union home minister Rajnath Singh's visit.
A social media group called Zolife, which has over 9,000 members on Facebook, and some other activists held the event at Vanapa Hall in Aizawl, which was attended by hundreds despite inclement weather.
"Despite heavy rain, nearly 5,000 people turned up. But we were able to serve only around 2,000 as we ran out of beef," Remruata Varte, one of the organisers, said over phone from Aizawl.
Singh arrived at Aizawl on Monday and held a meeting with chief ministers of four northeastern states to review security along the Indo-Myanmar border.
Mizoram, Nagaland and Meghalaya, which go to polls next year, have a dominant Christian population and beef and buffalo meat are widely consumed here.
"For Mizos, beef is part of our culture. We have a right to eat whatever we want without fear of being persecuted," Varte added.
Meanwhile, Singh said the Centre will not impose any restrictions on people's choice of food. Responding to a question on a protest against the Centre's ban on sale of cattle for slaughter at animal markets, Singh said there should be no restriction.
Singh held discussions with CMs of Mizoram, Manipur, Nagaland and Arunachal Pradesh, which share boundary with Myanmar. Union minister of state for home Kiren Rijiju was also present.
Singh stressed on strengthening and upgrading police stations and ordered constitution of a committee to identify gaps in basic infrastructure in the areas.
The committee headed by secretary (border management) will submit a report by December 31. Another committee was formed to examine the present rules and regulations for implementation of free movement regime (FMR), which allows people of border areas to travel 16km into the neighbouring country's territory. "FMR is being misused by militants and trans-border criminals who smuggle weapons, contraband goods and fake Indian currency," Singh said.
India and Myanmar share a 1,643-km long porous border.
Close Story
Personalise your news feed. Follow trending topics