Nitish Kumar resigns in blow to Mahagathbandhan, will return as Bihar CM with BJP support
Jul 31, 2017 05:14 PM IST
Bihar's alliance that thwarted the BJP juggernaut in 2015 was under strain after corruption allegations against RJD boss Lalu Prasad, his son and deputy CM Tejashwi Yadav and their family.
Bihar chief minister Nitish Kumar resigned on Wednesday, torpedoing his so-called grand alliance with troubled allies Rashtriya Janata Dal and Congress, and setting the stage for a new ruling partnership with the Bharatiya Janata Party. (HIGHLIGHTS)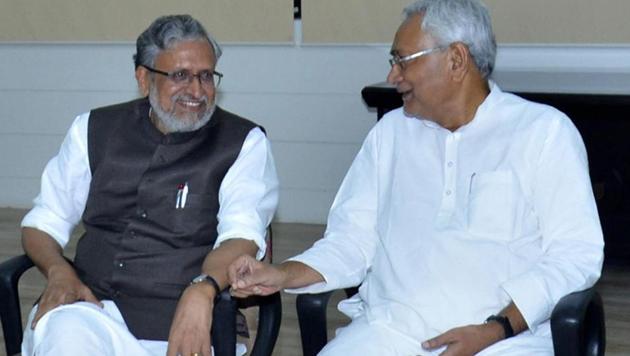 On a day of high political drama, Kumar's surprise decision came hours after RJD chief Lalu Prasad ruled out the resignation of his son and deputy chief minister Tejashwi, who is facing an investigation over an alleged land-for-hotels scandal.
"They would have grown in stature had they explained, resigned… I heard the voice of my conscience and decided to pull myself out of this coalition," Kumar said, referring to Lalu and his son's alleged involvement in corruption.
"They have their way, I have mine. I will move consistently on mine. There was no way this could continue," said the 66-year-old leader who was almost immediately congratulated by Prime Minister Narendra Modi for resigning.
Almost on cue, Lalu accused Kumar of planning the move in "cahoots with the BJP". He said the chief minister was also under pressure because he was facing murder charges.
"I say this with great responsibility that Nitish Kumar is charged with crime and the case is with the lower judiciary," Lalu said.
"The Prime Minister's tweet on the heels of the resignation indicates how strong this conspiracy was to destabilise the alliance."
Following Kumar's announcement, the BJP said a three-member panel would consult party lawmakers about the next course of action. But within minutes of that, BJP state leader Sushil Modi said the party would support Kumar as chief minister and also join his government.
Thereafter, BJP legislators took a letter of support to governor Keshri Nath Tripathi. Late in night, the governor was taken to a hospital, apparently for a nasal infection.
In Bihar's 243-member assembly, Kumar's JD(U) has 71 seats, the RJD 80 and BJP 53. Kumar can expect the support of at least 133 lawmakers, comfortably past the halfway mark, if one includes the legislators of the smaller allies of the BJP and independents. Kumar has not reacted to the offer but earlier in the day had indicated his willingness to consider all options.
Should Kumar accept the BJP's offer he will reprise an alliance that lasted 17 years before the JD (U) chief moved out opposing Modi's candidature for prime minister in 2013. BJP state chief Nityanand Rai said Kumar would take oath of office at 5pm on Thursday.
Kumar's unexpected move is also likely to shake up national politics. The so-called grand alliance, which had handed the BJP a drubbing in state elections two years ago, was seen by many as a possible opposition template to challenge Modi at the 2019 national election, with Kumar as its face. The alliance's collapse could now weaken the opposition's resolve to take on the BJP.
For now, Kumar returns as chief minister with the BJP's support.
"I called up Nitish Kumar and said we have faith in his leadership and we will extend support to the government under him," Sushil Modi, a former deputy chief minister, said.
"The modalities (of support) will be worked out later."
In 2015, Kumar joined hands with Lalu to stave off a BJP victory in state polls. But their grand alliance's sweeping victory was followed by months of public rift between senior leaders of both parties, although Lalu and Kumar never came out in public with any differences. Ties between the two frayed further over Kumar's drift towards the BJP and its presidential candidate Ram Nath Kovind last month.
Lalu, his son and their family are under investigations for allegedly acquiring wealth through dubious deals, including prime land in Patna as a quid pro quo for hotel maintenance contracts to private firms when the RJD chief was the railway minister. All of them deny the charges.