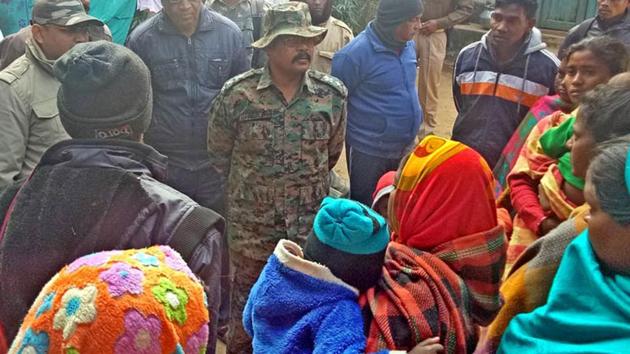 BJP leader killed in Jharkhand, two family members injured
This is the third such killing of a leader of ruling BJP in the state in less than three months
UPDATED ON DEC 02, 2017 08:55 PM IST
A Jharkhand BJP leader was shot dead and two of his family members were injured when a group of around 20 armed men fired indiscriminately at his Khunti residence on Friday late night, police said.
This is the third such killing of a leader of ruling BJP in the state in less than three months. Two of the three attacks were allegedly executed by the People's Liberation Front of India (PLFI), a banned left-wing rebel outfit.
The PLFI is suspected to be also behind the Friday's attack on Murhu block's BJP vice president Bhaiya Ram Munda at Bagma village, some 50 kilometers from state capital Ranchi.
Munda died on the spot, while his wife and brother sustained bullet injuries.
At least 20 rebels fired indiscriminately at Munda's residence, killing him on the spot and injuring his wife and brother, police sources said.
The two injured were rushed to the Rajendra Institute of Medical Sciences (RIMS) in Ranchi for treatment on Saturday.
"No arrest has been made yet. The PLFI is responsible for the killing and we have launched a manhunt to nab the culprits," said Khunti superintendent of police Ashwini Kumar Sinha.
Chief minister Raghubar Das condoled the death of Munda and announced Rs1 lakh as compensation to the bereaved family under the home ministry's scheme of compensating for left wing extremist incidents. Rs.50, 000 will also be paid to each of the injured for treatment, a communique from the chief minister's office said.
The state BJP too announced to pay Rs 2 lakh to the family.
Earlier on October 6, Maoist-turned BJP leader Manoj Nagesiya was shot dead in Simdega's Lachragarh village by PLFI rebels.
On October 29, 45-year-old Rajendra Mahato, a block level office bearer of the party was shot dead at a stone's throw from his residence in Darla village, around 60 kilometers from state capital Ranchi.
The PLFI is one of the 17 splinter Maoist groups active in Jharkhand, where 21 of the 24 districts are left wing extremism-affected. The splinter groups split from the main CPI (Maoist) organisation and formed their own groups with different ideologies and purposes.
The police, however, claim that a majority of these splinter outfits are ragtag groups, who have unleashed a reign of terror on innocent villagers.
They are involved in killing for fun, extorting money, trafficking children and even raping women, police say.
"The criminals who thrive on lawlessness and lack of development are the ones who are executing the killings to prevent the BJP from bringing development in the rural areas," said state BJP's media in-charge Shivpujan Pathak.
State rural development minister and Khunti legislator Neelkanth Singh Munda visited the injured family members of the deceased at RIMS on Saturday and asked doctors to provide best possible health facilities to them.
Close