BJP says Mayawati's alliance with Ajit Jogi in Chhattisgarh reflects contradictions
Sep 21, 2018 11:52 PM IST
BJP leaders argue this will have a repercussion in Uttar Pradesh where the Congress needs Mayawati more than she needs the Congress.
The Bharatiya Janata Party (BJP) believes that the Bahujan Samaj Party's (BSP) decision to forge an alliance with former chief minister, Ajit Jogi, in Chhattisgarh and unilaterally announce 22 candidates for Madhya Pradesh is a reflection of the contradictions that will emerge both while forming a grand alliance in Uttar Pradesh and carving out a national alternative to the BJP, two BJP leaders said.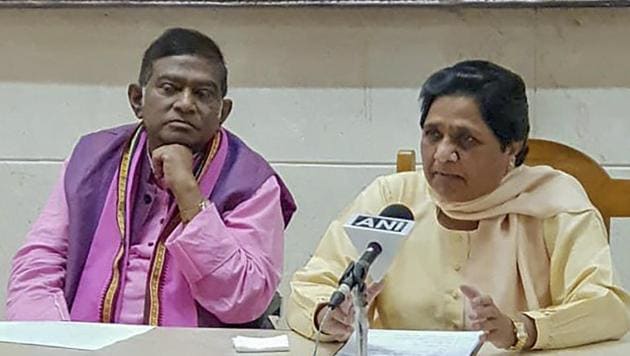 This will weaken the Congress further and improve the BJP's prospects, they added.
The BSP was in talks with the Congress in both the states.
BJP leaders argue this will have a repercussion in Uttar Pradesh where the Congress needs her more than she needs the Congress. "She has a committed vote. She feels 2019 is her moment. Why will she not dictate terms?" a union minister said.
Mayawati is reluctant to accept the Congress's demand for more than a dozen seats in Uttar Pradesh, and she feels the presence of the Congress is limited to Raebareli and Amethi, the pocket borough of the Nehru-Gandhi family, a person close to the BSP chief said. The BSP is in talks with the Samajwadi Party (SP) of Akhilesh Yadav and the Rashtriya Lok Dal (RLD) of Ajit Singh for Uttar Pradesh.
"There is little room for the Congress, with the kind of demands it is making," the BSP leader said. "Chhattisgarh has shown that Mayawati is very clear when it comes to seat sharing negotiations. She will forge an alliance on her terms."
The BJP feels this is good news for the party. "The Kairana by-election showed that the BJP had retained its votes and the difference between us and the grand alliance was marginal. Mayawati's decision is surely going to help us. Where is the doubt?" the minister said.
"Rahul Gandhi will be left alone. Everyone will leave him gradually," former union minister and BJP spokesman, Syed Shahnawaz Hussain, said.
"Some people were moving around the elephant with banana in hand. They forget that elephant has two set of teeth — one to show off and other to chew with," Madhya Pradesh chief minister Shivraj Singh tweeted in Hindi, riffing on the BSP's symbol, the elephant.
Congress spokesperson Abhishek Singhvi said what applies to Chhattisgarh, certainly dose not automatically apply to states such as Madhya Pradesh, Uttar Pradesh and Rajasthan.
"What applies to Chhattisgarh certainly doesn't automatically apply to Madhya Pradesh, does not automatically apply to other states such as Uttar Pradesh or Rajasthan. I don't think you can generalise," Singhvi said.
(With agency inputs)