7th Pay Commission: Cabinet okays hike in allowances for central govt staff from July 1
Updated on Jun 29, 2017 10:28 AM IST
The move is likely to boost spending and prop up demand, which sagged since the November 8 note ban that led to a severe cash crunch across the country.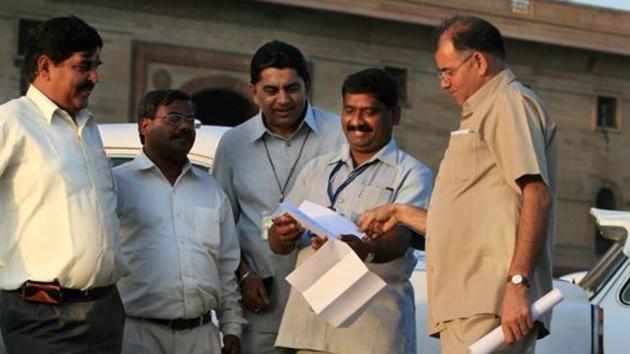 The Union cabinet approved on Wednesday the new allowance structure for 34 lakh central government and 14 lakh defence staffers, giving their pay cheques a significant bump from next month.
The decision completes the move to the 7th pay commission structure and the biggest jump in salaries will be due to the hike in the House Rent Allowance, which will see a 45% increase on average in a city like Delhi.
It is expected to spur spending and prop up demand, which sagged since the November 8 demonetisation that led to a severe cash crunch. The buoyant consumer demand could also translate into political goodwill for Prime Minister Narendra Modi's Bharatiya Janata Party as it heads into fresh round of state elections starting with Gujarat later this year.
Salaries of government employees in India — from teachers and clerks to engineers and bureaucrats — are divided into several components that include multiple 'allowances' based on their jobs. Their basic pay component was revised a year ago on recommendations of the 7th pay commission, while the allowances remained the same since that part of committee's proposals were under review.
Special gainers in Wednesday's exercise are soldiers (see box), who will see a 100% spike in the allowance for extreme risk postings such as in Siachen.
Finance minister Arun Jaitley said the government decided to follow the Committee of Allowances' suggestion not to abolish 12 of the 53 allowances that 7th pay commission wanted scrapped.
The move will cost the government Rs 30,748 crore annually, roughly Rs 1,440 crore more than what it would have had the government followed the pay commission's report to the letter.
India routinely sets up committees — Pay Commissions — to revise remunerations for government employees.
The latest one, the 7th pay commission led by former SC judge Ashok Kumar Mathur, had recommended many allowances to be scrapped or bunched together. The suggestion was opposed by government employees, which led to a review committee being formed under finance secretary Ashok Lavasa: the CoA.
Sharing details, Jaitley said the Pay Commission recommended reduction in the HRA rates to 24% for X-, 16% for Y- and 8% for Z- category cities.
"As the HRA at the reduced rates may not be sufficient for employees falling in lower pay bracket, it has been decided that HRA will not be less than Rs 5400, Rs 3600 and Rs 1800 for X, Y and Z category of cities respectively.
"This floor rate has been calculated at 30%, 20% and 10% of the minimum pay of Rs 18,000. This will benefit more than 7.5 lakh 1 to 3 levels of employees," the minister said.
The government also decided to tweak the HRA revision condition. "The Central Pay Commission had recommended revision of HRA when dearness allowance reaches 50% and 100 %. The government decided to revise rates when DA crosses 25% and 50% respectively."
X category cities are ones with population of more than 50 lakh, Y with 5-50 lakh people and Z with less than 5 lakh.
In a city like Delhi, the HRA for mid joint-secretary level officer will, for instance, now go up to Rs 44,640 from Rs 22,500. This officer's basic pay was revised last year to Rs 1.86 lakh from Rs 85,000.