Centre starts hunt for new BHU vice chancellor after campus violence
Updated on Sep 30, 2017 10:09 AM IST
Incumbent VC Girish Chandra Tripathi is in the eye of the storm after recent violence and cane charge on the girls on varsity premises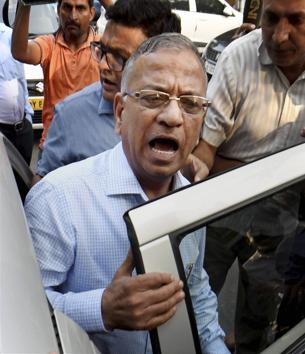 The Centre has started hunt for a successor of Banaras Hindu University vice chancellor Girish Chandra Tripathi, who is in the eye of the storm after recent violence and cane charge on the girls on varsity premises.
The human resources development ministry issued an advertisement for the coveted post of the administrative head of the central varsity, established in 1916.
Several students, mostly women, and policemen were wounded in clashes after university guards and cops cane-charged protesters in front of the vice chancellor's home and at the main entrance to the century-old institution's sprawling campus on September 23.
The students were demanding bringing to justice the culprits who allegedly molested a hosteller.
Varanasi commissioner blamed the BHU administration for the campus violence, which became a major political issue in the state with opposition Congress and Samajwadi Party accusing the Yogi Adityanath-led BJP government of mishandling the situation.
The incident coincidentally happened when Prime Minister Narendra Modi was visiting his parliamentary constituency, Varanasi.
The advertisement for the post of vice chancellor posted on the official website of the university said the appointment will be made from a panel of names recommended by a committee constituted under the provisions of the BHU act.
The vice chancellor, being the academic as well as administrative head, is expected to be a visionary with proven leadership qualities, administrative capabilities as well a teaching and research credentials, the advertisement reads.
It further says he must have an outstanding record and a minimum of 10 years experience as a professor in a university system or in an equivalent position. He should not be more than 67 years of age as on the closing date of receipt of application of the advertisement.
The format of the application is available on the websites: http://mhrd.gov.in and www.bhu.ac.in