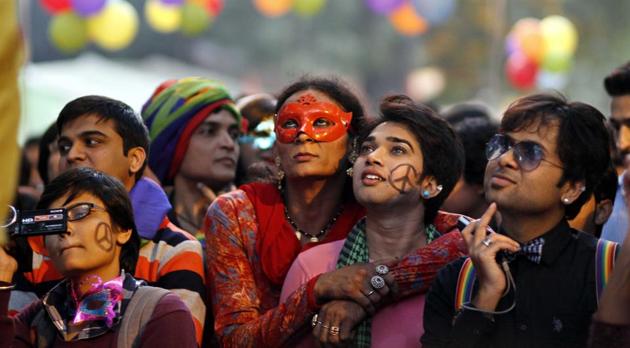 Chef, activist, hotelier, researcher: Meet 6 petitioners who championed decriminalising Section 377
Section 377 of the Indian Penal Code criminalises homosexuality.
UPDATED ON SEP 06, 2018 01:38 PM IST
The Supreme Court on Thursday said consensual gay sex is a legal right in its much-awaited verdict on a clutch of petitions seeking decriminalisation of a 158-year-old colonial law under Section 377 of the Indian Penal Code.
A five-judge constitution bench headed by Chief Justice Dipak Misra had reserved its verdict on July 17 after hearing various stakeholders for four days, including gay rights activists.
HT takes a look at six of the 35 petitioners before the top court:
Gautam Yadav, 27, is a Delhi-based programme officer with the NGO Humsafar Trust. His petition talks about the bullying that he faced in school, which forced him to drop out at 15. In 2015, he was a victim to threats of extortion based on his sexual orientation, and continues to face ridicule from his relatives for not being married, despite being in a committed relationship. At 19, he learnt he is HIV-positive and speaks publicly of living as a homosexual man with HIV. "I filed the petition because I wanted to highlight the issues which I went through and bring them to the notice of the nation," he said.
Ritu Dalmia, 45, Delhi-based chef who identifies as lesbian, is the owner of restaurant chain Diva, which has won several food awards. She was born in Kolkata, and moved to London to open a fine-dining restaurant in her early 20s. She returned to India in 1999. She filed the petition after the Supreme Court reversed the Delhi high court's judgment on Section 377, reinstating the law that criminalised adult consensual same sex relations. "When you yourself file this petition, you're declaring yourself to be a criminal. It makes you vulnerable. But, I realised that if I didn't do something about it, then I had no right to complain about it."
Keshav Suri, 33, executive director of The Lalit Suri Hospitality group, which owns The Lalit hotel, filed a petition earlier this year. The Lalit is also one of the 83 global companies that support the United Nations Standards of Conduct for Business, which was released in October 2017. Suri said it was the shooting in Pulse in Orlando [a nightclub in Florida where a June 2016 shooting left 49 people dead, many of whom were gay] that was his personal and professional awakening. "As per World Bank estimates, discrimination against LGBT community costs the country billions of dollars. It's time to stop ignoring this. It's counter-productive for any country concerned about its growth."
Urvi, 21, is a research intern at the Indian Institute of Technology in Bombay and hails from Anantapur in Andhra Pradesh. Urvi, who uses a different name in the petition, is a transgender woman and has struggled with poverty since childhood. She lost her father early and her mother brought up the family on her own income. "Section 377 doesn't let people express themselves, and leads to stigma. If Section 377 is abolished, it can help future generations accept themselves," says Urvi, who has received two prestigious national science fellowships, and was recently accepted in a masters programme in Germany.
Arif Jafar, 47, is the founder of NGO Bharosa Trust in Lucknow. He was arrested in July 2001 under Section 377 and was in jail for 47 days, a period where he says he was abused, tortured and humiliated. 17 years later, the case drags on and Jafar says he has faced stigma and ostracisation because he chose to come out as a gay man. "The petitioner's sole motivation in approaching this hon'ble court is his wish that no other person should suffer what he had to suffer on account of a discriminatory law i.e. Section 377, IPC and that fellow LGBT citizens can live with the freedom, dignity and respect that they are entitled to," his petition read.
Akkai Padmashali, 32, is a transgender rights activist and a recipient of the Karnataka government's Rajyotsava Award. She filed a petition in the Supreme Court against Section 377 in 2016 along with two other transgender women, saying their right to privacy was being curbed under the law. Padmashali has been at the forefront of documenting and protesting the impact of the law on transgender people, including in curbing their mobility, harassment and abuse. "I cannot rest until Section 377 is kicked out. Who are the police to tell me what's unnatural? Who is the society to stigmatise my sexual relationship? As the world's largest democracy, we cannot accept this regressive law," she said.
Close