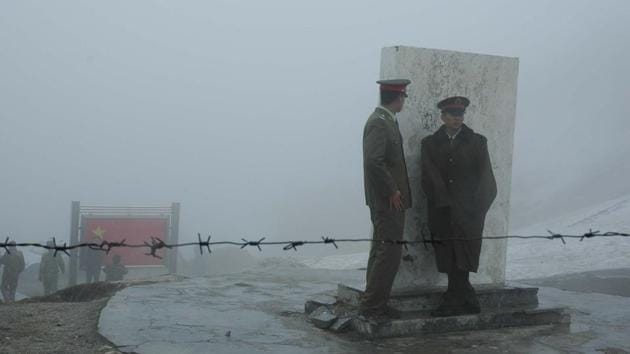 Chinese media calls for Sikkim's 'independence', scrapping of 'unfair' Bhutan treaties
China continues to raise the stakes in the border standoff with India with an official media calling for Sikkim's 'independence'.
Hindustan Times, Beijing | By Sutirtho Patranobis
, Beijing
UPDATED ON JUL 06, 2017 08:42 PM IST
Amid the Sino-India border standoff, the Chinese official media has called for Sikkim's "independence" and separation from India and suggested that Beijing should rally the world for the abolition of unfair treaties on sovereignty and defence that New Delhi has allegedly forced Bhutan to sign.
In an unambiguous call to incite violence in Sikkim, the state-controlled media called on Chinese citizens to "fuel" pro-independence movement in the Indian state bordering China and overturn India's "brutal" annexation of the state.
It's near the Sikkim's border with China that the Indian and Chinese border troops are locked in a standoff – China alleges that Indian troops crossed into its territory in Donglang (Doklam) to disrupt the construction of a road in the area.
"India is deeply concerned at the recent Chinese actions and has conveyed to the Chinese government that such construction would represent a significant change of status quo with serious security implications for India," the Indian ministry of external affairs had said on Friday.
But it has cut no ice with the Chinese. Brushing aside India's concerns, Beijing and its strictly-controlled media have launched a well thought-out verbal offensive against New Delhi, even suggesting that China should take a fresh look at India's annexation of Sikkim.
Read more: No plans to deny security clearance to Chinese investment amid border row: MHA
"Meanwhile, Beijing should reconsider its stance over the Sikkim issue. Although China recognised India's annexation of Sikkim in 2003, it can readjust its stance on the matter. There are those in Sikkim that cherish its history as a separate state, and they are sensitive to how the outside world views the Sikkim issue. As long as there are voices in Chinese society supporting Sikkim's independence, the voices will spread and fuel pro-independence appeals in Sikkim," the nationalistic Global Times said in a brazen editorial.
The Global Times is affiliated to the Communist Party of China (CPC) mouthpiece, People's Daily, which is leading the media charge.
"With certain conditions, Bhutan and Sikkim will see strong anti-India movements, which will negatively affect India's already turbulent northeast area and rewrite southern Himalayan geopolitics," the newspaper wrote.
"After independence, New Delhi inherited the brutal colonial policies of Britain and pursues regional hegemony at the sacrifice of tiny Himalayan nations," it said.
The newspaper's call for Sikkim's independence and incite trouble in the northeastern states seems to match with what Indian military, police and intelligence have often claimed – that Beijing provides arms, money and logistical support to insurgent groups in the northeastern states of India, encouraging them to indulge in violence and spread unrest.
Although all the editorials and opinions published by the newspaper may not mirror the exact thoughts of the CPC, there is little doubt that the opinion pages of the newspaper are often used by Chinese authorities to send out signals, especially during diplomatic controversies with India.
And, there is no doubt that Global Times' tone has certainly been hawkish on the standoff and completely aligned with what the government of China has been aggressively saying about India's so-called transgressions.
Comparing the situations in Bhutan and Sikkim, it said: "India has startling control and oppression over Bhutan, and as a result, Bhutan has not established diplomatic ties with its neighbour China or any other permanent member of the UN Security Council. Through unequal treaties, India has severely jeopardised Bhutan's diplomatic sovereignty and controls its national defence.
"India imposed a similar coercive policy on Sikkim before. The small neighbour's revolts over sovereignty in the 1960s and 1970s were brutally cracked down on by the Indian military. New Delhi deposed the king of Sikkim in 1975 and manipulated the country's parliament into a referendum to make Sikkim a state of India," the GT editorial said.
"The annexation of Sikkim is like a nightmare haunting Bhutan, and the small kingdom is forced to be submissive to India's bullying."
The newspaper said Beijing should lead a worldwide effort to restore Bhutan's sovereignty.
"China should lead the international community in restoring Bhutan's diplomatic and defense sovereignty. Unfair treaties between India and Bhutan that severely violate the will of the Bhutanese people should be abolished. China needs to put more efforts into establishing diplomatic ties with Bhutan at an earlier date as well."
Close