CJI enlists aid of visually impaired lawyer to boost inclusivity in court
Published on Nov 24, 2022 11:49 PM IST
CJI Dhananjaya Y Chandrachud on Thursday stressed on digital accessibility for the disabled in courtrooms, as he sought the assistance of senior advocate SK Rungta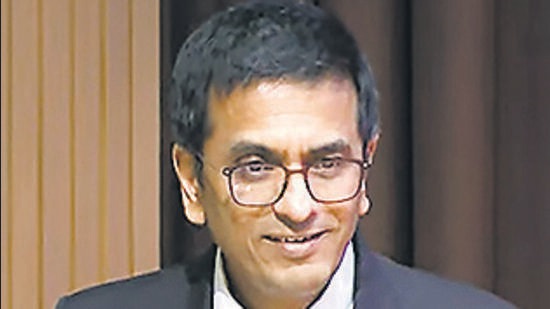 Chief Justice of India (CJI) Dhananjaya Y Chandrachud on Thursday stressed on digital accessibility for the disabled in courtrooms, as he sought the assistance of senior advocate SK Rungta – the first visually-impaired lawyer to be designated a senior – for making proceedings disabled-friendly.
The CJI was impressed by Rungta's suggestion that making use of a software that can translate text documents into braille would go a long way in assisting visually-disabled lawyers in accessing documents cited during the course of a hearing.
"I will ask the head of NIC (National Informatics Centre) to coordinate with you in regard to this," justice Chandrachud told the senior counsel, adding that it is his mission as a CJI and also as the chairman of the e-committee to make courtrooms and proceedings disabled-friendly.
The exchange between justice Chandrachud and Rungta began as the latter argued a case relating to electricity tariff in court hall 1 of the top court. The bench also comprised justices Hima Kohli and JB Pardiwala.
Intrigued as to how Rungta was able to follow the case laws being cited and read out by other lawyers during the proceedings, the CJI asked him: "I wanted to ask you a personal question. I hope you don't mind it. The other counsel is citing a compilation. How do you follow it in court?"
Rungta replied that he used a software which converts text to braille.
To this, justice Chandrachud said that as the chairman of the e-committee, making courts friendly for the disabled is one of his missions.
Rungta replied that he would like to point out a few things that could help the CJI's endevaour. "As we are moving towards digitalisation, the software that is used in the court ought to be compatible with the software we are using in our devices so that the material can be converted to braille," he submitted.
The senior counsel pointed out that text can easily be converted to voice using commonly available software, but a voice format cannot be used in a courtroom.
The suggestion was warmly welcomed by the CJI. "You are absolutely right. What I will do is that I will ask the head scientist of the NIC to co-ordinate with you. Both of you can sit together...It is not merely going to help the Supreme Court lawyers, but I want to do it for courts across the country," justice Chandrachud told Rungta.
The CJI also mentioned how Rahul Bajaj, who used to work as his law clerk, assisted in making the Supreme Court's website disabled-friendly. "As you may have noticed, we have made some changes to the website. Now we also have audio captcha apart from image captcha text to access information...Mr Rungta, give us a little bit of your time. It would help in our mission," he said. Bajaj is also visually disabled.
At this, the senior counsel readily agreed to provide his assistance.
Advocate Pankaj Sinha, who is also a visually-impaired lawyer practising in the Supreme Court, welcomed the CJI's views. "It is heartwarming for the first judge of the country to show his personal interest in an issue like this. I would hope the Supreme Court administration works towards making the website compliant with the Web Content Accessibility Guidelines (WCAG)," he said.
Sinha pointed out that WCAG is a set of globally adopted standards to make websites, apps, electronic documents, and other digital assets accessible to people with a broad range of disabilities, including sensory, intellectual, learning and physical disabilities.
Justice Chandrachud has been a strong proponent of disability rights. The judge not only took steps in making the Supreme Court website more accessible by including audio captcha, but also put out an instruction in his cause-list that all the documents filed in his court had to be filed in soft copy form in the native digital format.
On the judicial side as well, justice Chandrachud has delivered some landmark judgments fortifying the rights of the disabled. In a February 2021 judgment, he held that a person's blindness or physical disabilities cannot be construed as an absolute disqualification for appointment as a judge. The CJI described the Rights of Persons with Disabilities (RPwD) Act as being an instrument that "tells them (the disabled) that they belong, that they matter, that they are assets, not liabilities and that they make us stronger, not weaker."
In November 2021, justice Chandrachud offered relief to a woman affected by a writing disorder called dysgraphia, holding that compensatory time to such candidates will be implicit in the principles of reasonable accommodation and inclusive education. Similarly, in a December 2021 judgment, the judge held that disciplinary actions against persons with mental disabilities is a facet of indirect discrimination.
Recently, in August, the CJI underlined the importance of making court documents accessible to the disabled, issuing guidelines that all judicial institutions must ensure that the judgments and orders being published by them do not carry improperly placed watermarks as they end up making the documents inaccessible for persons with visual disabilities who use screen readers to access them.
Personalise your news feed. Follow trending topics