Clear-cut corruption in Rafale deal, PM must clear stand: Rahul Gandhi
The prime minister must clear his stand on the Rafale deal after Hollande's remarks, Rahul Gandhi said.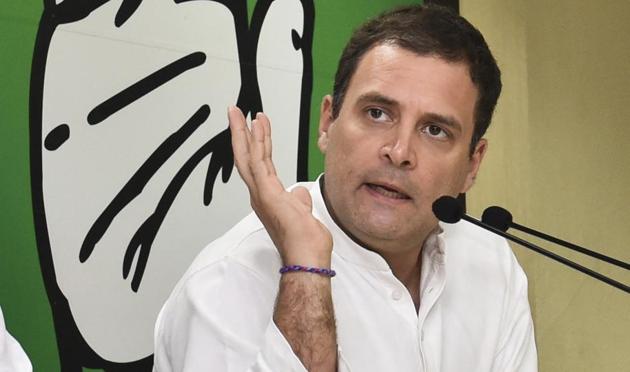 Updated on Sep 22, 2018 04:59 PM IST
New Delhi |
Press Trust of India
Congress president Rahul Gandhi Saturday said there was "clear-cut" corruption in the Rafale deal and asked Prime Minister Narendra Modi to clear his position on the issue.
Gandhi's blistering attack on Modi during a press conference came a day after former French president Francois Hollande was quoted as saying that the Indian government proposed Anil Ambani's Reliance Defence as the partner for Dassault Aviation in the Rs 58,000 crore Rafale jet fighter deal.
The prime minister must clear his stand on the Rafale deal after Hollande's remarks, he said.
"Why is the prime minister silent? It is a matter related to defence forces, it is a matter related to corruption," he said.
He also claimed that various defence ministers of the NDA government have been lying to protect Modi.
Gandhi demanded a joint parliamentary committee probe and Hollande can also be called.
"We are absolutely convinced that the prime minister is corrupt... He must clarify," Gandhi said.
"It is very important for the prime minister now to either accept Mr. Hollande's statement or state that Mr. Hollande is lying and tell what the truth is," he said.
Modi had announced the procurement of a batch of 36 Rafale jets after holding talks with then French president Hollande on April 10, 2015 in Paris.
The opposition party has been accusing the government of choosing Reliance Defence over state-run Hindustan Aeronautics Ltd to benefit the private firm though it did not have any experience in the aerospace sector.
(This story has been published from a wire agency feed without modifications to the text.)
Close Story