Concerns over infant mortality as Covid-19 hits immunisation drives
Experts fear that India is missing the targets for the Sustainable Development Goals 2030.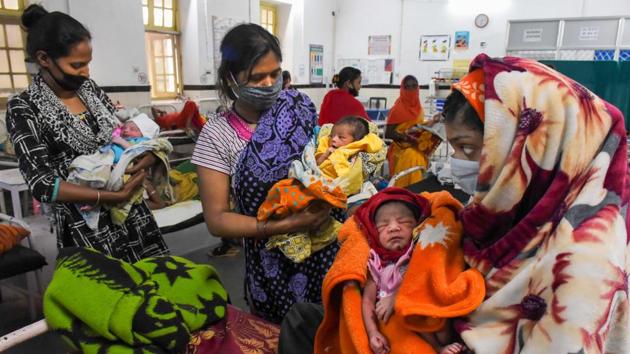 Updated on May 16, 2020 04:21 PM IST
Hindustan Times, New Delhi |
Amrita Madhukalya
The involvement of accredited social health activists (Asha) and anganwadi workers primarily in Covid-19 related activities has triggered fears about its possible fallout on efforts to check infant mortality because of their basic work related to immunisation and meeting nutritional requirements for children in rural areas.
The work of anganwadi workers includes the supply of nutritious food to children in villages while the promotion of universal immunisation is among the key responsibilities of an Asha.
"With the immunisation drive in India coming to a standstill, and as we are diverting our resources to Covid-related activities, the fear is that this might undo any good progress...," said an official of government think-tank Niti Aayog, which is involved in the Poshan Abhiyaan to check malnutrition.
According to the 2018 Sample Registration System Bulletin released on May 9, India's infant mortality rate has declined from 33 deaths per 1000 live births in 2017 to 32 in 2018. The rate rose in Madhya Pradesh, Uttar Pradesh, Chhattisgarh, and Jharkhand.
National Institute of Nutrition (Hyderabad) director R Hemalatha said these numbers mean that India is missing the targets for the Sustainable Development Goals 2030, or a to-do list for tackling conflict, hunger, land degradation, gender inequality, and climate crisis. "India will miss the same targets for neonatal mortality rate, or infant mortality rate, which require us to have 12 deaths per 1000 live births by 2030. If the same trends continue, we might be able to realise the under-5 mortality rate of 25 deaths per 1000 live births," said Hemlatha.
The National Institute of Nutrition was involved in the drafting of the bulletin.
The Niti Aayog official cited above said the one-point decline in the national infant mortality rate shows that the pace of decline has been arrested. The rate in 2013 was 40, 39 in 2014 and 37 in 2015. It fell to 34 in 2016. In 2017 and 2018, the rate was 33 and 32.
Anganwadi workers and helpers under the Integrated Child Development Services (ICDS) programme visit homes to teach women about the importance of nutrition, hygiene, pregnancy care and the immunisation among other things. They help supply supplementary nutrition and collect the data needed for the delivery of services.
India faces a shortage of health workers with a doctor-population ratio of 1:1,457 against a prescribed 1:1,000 and relies heavily on the anganwadi and Asha network for public health duties.
Asha and anganwadi workers have been engaged in contact tracing of Covid-19 patients in their localities across the country as their centres have been shut down since the lockdown to check the spread of the pandemic was announced in late March.
Bihar principal secretary (health) Sanjay Kumar said the immunisation was stopped on March 24 before it was restarted on May 6. He said the immunisation has played a key role in Bihar's 3-point decline in the infant mortality rate. He said anemia is a key problem in Bihar and the ICDS resources the anganwadi network delivers are crucial.
Assam chief secretary Kumar Sanjay Krishna said Asha and anganwadi workers have over the last three months been primarily engaged in contact tracing duties. "But we decided that the immunisation has to go on..."
Rakhi Dandona, a professor at the Public Health Foundation of India, said the effect of this year's activities will be found in a few years, but there is a genuine concern among health practitioners. "We had made a lot of gains in maternal care, and are we going to lose some of that? We do not know yet. But we know home deliveries would have gone up, and antenatal care and the immunisation activities have gone down."
Close Story
Personalise your news feed. Follow trending topics