Covid Highlights: Random testing for foreign arrivals; children, elders advised to wear masks, says Maha health min
Dec 22, 2022 09:24 PM IST
Coronavirus news updates Highlights, December 22, 2022: India has been witnessing a steady decline in average daily cases, but with global infections increasing, especially in China, the central government has stressed on strengthening surveillance and use of masks.
Amid fresh surge of Covid-19 cases in China, which has been predicted to cause millions of deaths in the country, the pandemic has repositioned itself at the centre of India's health map with the government asking people to get vaccinated and use masks. Concerns steeped from the detection of four cases of BF.7 in India since it is the variant that is driving the spike in infection rate in China. Experts, however, have said that India need not worry or panic because BF.7 - a sublineage of Omicron variant BA.5 - was found in the country earlier and the four cases that have now come to light were detected in the past, with the patients since recovered.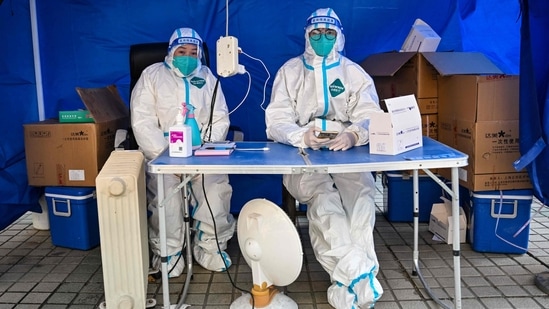 Even so, the Centre reviewed the Covid-19 situation in India on Wednesday, with Union health minister Mansukh Mandaviya chairing the meeting and NITI Aayog member (health) VK Paul in attendance along with other senior officials and public health experts. The government has asked states to step up surveillance and stay vigilant, and also conduct genome sequencing of positive case samples. Furthermore, random sample testing of individuals entering India from China and other countries will be done.
India has been witnessing a consistent dip in Covid-19 cases with the average daily case count falling to 158 in the week ending December 19.
Follow all the updates here:
Dec 22, 2022 09:24 PM IST

A million infections and 5,000 deaths a day from Covid in China: Study

China may already be recording over a million new infections and at least 5,000 deaths every day, according to new estimates by an analytics company, as criticism mounted over Beijing's lack of transparent data and its decision to change what it considers a Covid-19 death.

Dec 22, 2022 08:21 PM IST

Amid Covid spike, elderly patients fill hospital wards in China's cities

Elderly patients lined the wards of hospitals in major cities in China Thursday as the country battled a wave of Covid cases.

The virus is surging across China in an outbreak authorities say is impossible to track after the end of mandatory mass testing.

Dec 22, 2022 07:45 PM IST

Random Covid tests for foreign arrivals at Mumbai, Nagpur and Pune airport, elders advised to wear masks: Maharashtra health minister

Random testing for Covid of international passengers from Monday, announces state health minister Tanaji Sawant in assembly. No immediate decision on masks. " It is advised that people should maintain social distancing. Children and those above 60 should wear masks at public places," Sawant said.

Dec 22, 2022 07:07 PM IST

Covid isn't over': At Covid-19 meet, PM Modi calls for high-level preparedness

Prime Minister Narendra Modi on Thursday cautioned against complacency and said Covid-19 is not over yet, directing officials to strengthen ongoing surveillance measures, especially at the international airports.

Dec 22, 2022 06:58 PM IST

Covid-19: Karnataka makes wearing masks mandatory in indoor locations

The Karnataka government on Thursday decided to conduct mandatory testing of Influenza Like Illness (ILI) and Severe Acute Respiratory Illness (SARI) in the state amid a spurt in Covid-19 cases in some parts of the world, including China.

Dec 22, 2022 06:55 PM IST

Congress will follow Covid guidelines, but Bharat Jodo Yatra will not be stopped: Khurshid

The Congress will follow all Covid-related guidelines, but the Bharat Jodo Yatra will not be stopped, senior party leader Salman Khurshid said on Thursday.

Dec 22, 2022 06:11 PM IST

Don't panic, we are prepared: Arvind Kejriwal after emergency meet on Covid situation in Delhi

Delhi chief minister Arvind Kejriwal on Thursday assured the citizens to not panic amid rising Covid-19 cases in China.

Dec 22, 2022 05:56 PM IST

'Rahul Gandhi can continue with Bharat Jodo Yatra but...', says union minister

'Today, all MPs wore face masks in Parliament. Govt of India has issued advisories to all States/UTs regarding the Covid19 situation. Rahul Gandhi can continue with his Bharat Jodo Yatra but following Covid19 protocols": Union minister G Kishan Reddy was quoted as saying by ANI.

Dec 22, 2022 05:36 PM IST

Use masks, avoid international travel: IMA issues advisory to avoid impending Covid outbreak

Amid the sudden surge of Covid cases in several countries, the Indian Medical Association (IMA) on Thursday issued an advisory and appealed public to follow Covid-appropriate behaviour with immediate effect.

Dec 22, 2022 05:05 PM IST

China Covid deaths probably running above 5,000 per day: Report

More than 5,000 people are probably dying each day from Covid-19 in China, health data firm Airfinity estimated, offering a dramatic contrast to official data from Beijing on the country's current outbreak.

Dec 22, 2022 04:46 PM IST

BioNTech says provided 11,500 doses of Covid vaccine to China

Germany's BioNTech said on Thursday it had shipped 11,500 doses of its Covid-19 vaccine to China to be administered initially to German expatriates, Reuters reported.

Dec 22, 2022 04:43 PM IST

Shanghai hospital warns of 'tragic battle' as Covid spraeds

A Shanghai hospital has told its staff to prepare for a "tragic battle" with Covid-19 as it expects half of the city's 25 million people will get infected by the end of next week, while the virus sweeps through China largely unchecked, Reuters reported.

Dec 22, 2022 04:15 PM IST

PM Modi chairs high-level meet to review Covid-19 preparedness in country

Prime minister Narendra Modi is chairing a high-level meeting on the Covid-19 situation in the country.

Dec 22, 2022 03:52 PM IST

UP CM reviews Covid situation, asks officials to ramp up testing, genome sequencing

Uttar Pradesh chief minister Yogi Adityanath Thursday reviewed the Covid-19 situation in the state at a high-level meeting with officials, and directed them to monitor the new coronavirus variant, ramp up testing and conduct genome sequencing of fresh cases, PTI reported.

Dec 22, 2022 03:30 PM IST

'I'm the health minister': Mandaviya on letter to Rahul over Bharat Jodo Yatra

Union health minister Mansukh Mandaviya on Thursday reiterated that his letter asking Congress MP Rahul Gandhi and Rajasthan chief minister Ashok Gehlot asking them to follow Covid-19 protocols during 'Bharat Jodo Yatra' is not political. Read more

Dec 22, 2022 03:19 PM IST

Haryana minister Anil Vij says no need to panic, but people should voluntarily follow Covid norms

In the wake of a sudden spurt in Covid cases in some countries, Haryana's health minister Anil Vij on Thursday said there was no need to panic, but asked people to voluntarily follow precautionary measures like wearing of masks in crowded places and using hand sanitiser.

Dec 22, 2022 03:03 PM IST

'All these are excuses to stop Yatra': Rahul Gandhi on health min's letter pertaining to Covid protocols in Bharat Jodo Yatra

'It's their (BJP) new idea, they wrote a letter to me saying Covid is coming & stop the Yatra. All these are excuses to stop this Yatra, they are sacred of India's truth": Rahul Gandhi on Union health minister's letter pertaining to Covid protocols in Bharat Jodo Yatra

Dec 22, 2022 02:55 PM IST

BJP suspends 'Jan Aakrosh Yatra' in view of global rise in Covid cases

The BJP has suspended its "Jan Aakrosh Yatra" in Rajasthan in view of a rising number of coronavirus cases globally, party general secretary Arun Singh said on Thursday.

Dec 22, 2022 02:27 PM IST

No decision yet to stop flights to and from China: Health ministry

Amid demand by Opposition parties to immediately stop all international flights from China, government sources said that there is no order issued by the central government to curb incoming flights from the country where a wave of Covid cases has been reported.

'We don't have any direct flights from China to India or from India to China but as of now, there is no such order issued to stop connecting flights to India which are arriving via China. The Ministry of Civil Aviation (MoCA) is an executing ministry, the final decision will come from the Ministry of Health and Family Welfare (MoHFW)," government sources told ANI.

Dec 22, 2022 02:19 PM IST

Random sampling of foreign arrivals has started at airports, says health minister in Lok Sabha

Union health minister Mansukh Mandaviya on Thursday in Lok Sabha said that random sampling of foreign arrivals has started at airports, amid spike in global infection rate.

Dec 22, 2022 02:13 PM IST

'Centre keeping close watch on new Covid variants': Mandaviya

Union health minister Mansukh Mandaviya said on Thursday in Lok Sabha said that the central government is keeping a close watch on new Covid-19 variants amid spike in global infection rate, especially in neighbouring China.

Dec 22, 2022 01:30 PM IST

Mansukh Mandaviya to make statement on Covid scenario in Parliament

Union health minister Mansukh Mandaviya will make a statement amid fresh concerns regarding Covid-19 in both Houses of Parliament today. He will make a statement in Lok Sabha at 2pm followed by one in Rajya Sabha.

Dec 22, 2022 12:31 PM IST

Lok Sabha Speaker Om Birla urges MPs to wear masks

Amid Centre's fresh recommendation to mask up and get vaccinated owing to rise in Covid-19 cases in China and other nations, Lok Sabha Speaker Om Birla on Thursday urged MPs to wear a mask. He came to the House for the ongoing winter session of Parliament wearing a mask himself, PTI reported.

Dec 22, 2022 11:01 AM IST

Mamata directs setting up of team to monitor Covid scenario in Bengal

West Bengal CM Minister Mamata Banerjee on Wednesday directed health officials to set up a team of experts to monitor the Covid-19 situation in her state amid rising cases in China. "The health secretary will be leading the team. Genome sequencing should continue," she was quoted as saying by PTI during a a meeting at Nabanna - state secretariat - in Kolkata.

Dec 22, 2022 09:35 AM IST

PM Modi to chair high-level Covid review meeting today

Prime Minister Narendra Modi will chair a high-level review meeting on the Covid-19 situation in India later in the afternoon amid rising infections in China and other countries, ANI reported on Thursday.

Dec 22, 2022 09:13 AM IST

India logs 187 new Covid cases in last 24 hours, active count at 3,402

India on Thursday reported a slight spike in its daily Covid count after 187 new cases were detected, the health ministry's bulletin at 8am showed. The active caseload currently stands at 3,402, accounting for 0.01 per cent to the cumulative tally of 4,46,76,515. The country saw one new fatality from Delhi, taking the death toll to 530,681, the bulletin revealed.

Dec 22, 2022 09:04 AM IST

'Unlikely we'll face any serious problem': AIIMS Delhi doctor on Covid

Amid renewed attention on Covid-19 in view of global surge, especially in China, a doctor of AIIMS Delhi has said that it is "unlikely" for India to "face any serious problem due to the virus in current scenario," news agency ANI reported on Thursday.

Story Saved