Cyclone Titli devastates plantations near Andhra landfall spot; residents slam delays in relief
Hindustan Times, Vijayawada |
Gali Nagaraja
Oct 15, 2018 07:14 AM IST
Cyclone Titli, which made its landfall at Andhra Pradesh's Srikakulam district early on October 11, destroyed plantations in the area and also disrupted water supply. Irate residents complain relief measures are inadequate
Plantation owners in Andhra Pradesh's Akkupalli village, close to where Cyclone Titli made its landfall early October 11, have faced the brunt of its destructive winds with the heaviest blow falling on a man which depended on the lease of his cashew orchard to fund treatment of his wife's kidney ailments.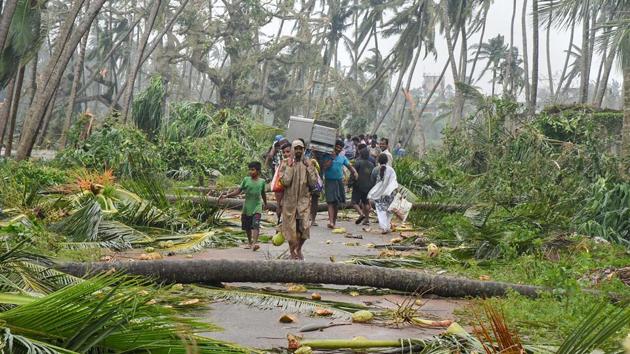 Maddu Babu Rao, of the village under Vajrakothuru mandal in Srikakulam district, said that his wife Narayanamma is a chronic patient of kidney disorders for over a decade and he spends ₹10,000- ₹15,000 every month on her treatment.
Stay tuned with breaking news on HT Channel on Facebook.
Join Now
"We have two acres of cashew plantations fetching an annual lease of ₹75,000. With the hope of receiving this assured income, I shifted my family to Visakhapatnam enabling my wife to access medical facilities. Now, the cyclone flattened all cashew plantations and the lessees are forcing me to return the lease amounts," Rao lamented.
The village falling under the Uddanam region flourished with cash crops such as cashew, mango, coconut and drumsticks until Titli struck it hard. "Our village now presents a devastated picture with the once-lush trees in the lush green plantations felled, surrounded by the broken branches and heaps of leaves, thanks to the demon-like winds", said Rao.
The cyclone also hit the rural water supply schemes and bore wells, leaving the inhabitants with acute scarcity of drinking water.
"Some good samaritans supply tank water twice a day... (but) it's quite inadequate to meet the requirements of 1,000 households. Come the tanker, the streets see water wars with men and women, holding containers, go to any extent to fill their vessels," Babu Rao said. Except the visit of Chief Minister N. Chandrababu Naidu, the village has failed to get anything, he complained.
The alleged poor response from the official machinery in extending relief material to the victims triggered protests in Palasa, Kaviti and Vajrapukothur mandals. Chief Minister N. Chandrababu Naidu directed Srikakulam district collector Dhananjay Reddy to take action against local revenue and development officers following complaints during his visit about the administration's failure to supply even water and food packets in their area.
Rama Rao, a medical practitioner heading non-profit organisation Mana Uddanam Foundation, said people from his Kavitam Kothuru village voluntarily cleared the broken tree branches and restored traffic on the road. He said no official visited their village yet and people have been seeking food and drinking water. "The government should have ensured airdropping of food and water sachets at least", he protested.
Cut-off from the communication network, inhabitants of Kavitam Kothuru hit upon a unique idea of getting their cell phones charged with the help of electric batteries meant to power amplifier mikes in a desperate bid to connect to the outside world. Mobile phones went dead due to disruption of power supply and collapse of cell towers due to the impact of heavy gales.
Meanwhile, Boddapadu village, which was once a Maoist stronghold, has set example in disaster management. The village has built overhead tanks in each of its seven streets with voluntary donations. When power went off due to the cyclonic impact, the villagers hired generators and pumped water into their households, thus preventing water scarcity as was the case elsewhere, according to Kameswara Rao, a resident of the village.
A preliminary report prepared by the district administration put the cyclone-induced loss at ₹2,800 and chief minister Naidu on Sunday urged Centre to release ₹1,200cr as an immediate relief. At a review meeting, he also warned of stern action against officials found guilty of laxity in reaching out to the cyclone victims.