China says Dalai Lama's Arunachal visit won't benefit India, lodges protest
Updated on Apr 08, 2017 07:28 PM IST
A Chinese spokesperson said the country firmly opposes Dalai Lama's Arunachal Pradesh visit and will lodge a protest with India.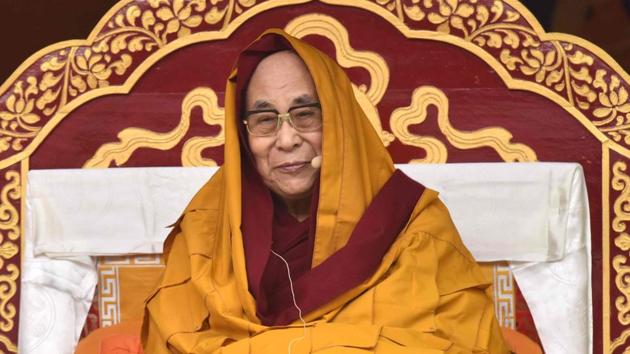 Hindustan Times, Beijing |
Sutirtho Patranobis
China launched a diplomatic attack on India on Wednesday for "obstinately" arranging the 14th Dalai Lama's visit to the "disputed region" of Arunachal Pradesh, demanding an immediate stop to his ongoing tour and summoning Indian ambassador VK Gokhale to lodge a protest.
"The visit will for sure trigger China's dissatisfaction. This will not bring any benefit to India," Hua Chunying, the ministry of foreign affairs spokesperson, said.
"The Chinese side will take necessary means to defend its territorial sovereignty and legitimate rights and interests," she added.
Former ambassador AK Kantha had been summoned by the foreign affairs ministry after Prime Minister Narendra Modi visited Arunachal Pradesh in February 2015.
Dalai Lama, the 81-year-old Tibetan spiritual leader reached Arunachal --- which China claims to be a part of south Tibet, on Tuesday for a week-long visit, with India telling its neighbour that the tour was its internal matter and that it was purely religious in nature.
Beijing clearly wasn't convinced.
It wasn't immediately clear how else China will target India for inviting the Tibetan leader to Arunachal, but from the tone of Hua's statement it was evident that Beijing was furious: Hua's statement was peppered with phrases like "obstinate India", "escalate border dispute" and "empty words".
It was by far China's strongest reaction since the time it had begun to warn India about the impending visit.
Asked for a response to China's reaction, external affairs ministry spokesperson Gopal Baglay referred to a statement issued on Tuesday which said that "the Dalai Lama is a revered religious leader and has visited Arunachal earlier on half a dozen occasions", news agency IANS reported.
But Hua said: "India in disregard of Chinas concerns obstinately arranged Dalai's visit to the eastern part of India China border causing serious damage to China's interests and India-China relations."
"We demand the Indian side immediately stop wrong actions, not hype up sensitive issues and take concrete steps to safeguard growth of India-China relations," she said.
To India's assertion that the visit was an internal matter, Hua said China didn't interfere in the internal affairs of any country but the Tibetan leader's visit wasn't one because it was linked to a "disputed region".
"The visit goes beyond (India's) internal affairs," she said.
"India is keenly aware of the role of the 14th Dalai Lama. Arranging this visit to the disputed areas not only runs counter to India's commitments on Tibet but will escalate the dispute in border areas," Hua said.
"Can you tell me honestly, do you seriously believe Dalai is only a religious leader? The answer is known to all. He is not just a religious figure therefore his visit to this place will not be of purely religious purpose. So using these empty words to defend this arrangement is not reasonable," she said.
Beijing sees the profile of this visit as higher compared to earlier visits, as this time the Dalai Lama is accompanied by Union minister of state for home Kiren Rijiju, who hails from the Tawang district of Arunachal.
"Cooperation between us will serve interests of the region. We hope to maintain good momentum of growth but this move runs counter to his wish, so we hope India stops doing things that undermine our interests," Hua said.
Earlier in the day, the Chinese state media lashed out at India, saying China would not allow New Delhi a "free ride" on its economic growth while it endangered Beijing's core interests.
New Delhi was "playing" the Dalai Lama and his anti-China activities as a diplomatic tool, said an article in the influential state-run tabloid the Global Times, warning of retaliatory measures.
"The Dalai Lama has long been active in anti-China separatist activities under the guise of religion. New Delhi inviting the Dalai Lama to sensitive region gravely damages the China-India relationship," it said.
The Dalai Lama got a rousing reception when he reached Bomdila on Tuesday evening. He will be in Tawang on April 8.
Tawang is an important Buddhist centre with a 400-year-old hilltop monastery but also holds a special place for the Tibetan leader who spent a few days in the Himalayan village after escaping the Chinese army in 1959.
China claims Arunachal Pradesh as southern Tibet and calls Dharamshala-based Dalai Lama a separatist who wants to carve out an independent Tibet within the Chinese mainland.