Separatist Asiya Andrabi's son comes to Dangal star Zaira Wasim's defence
Zaira Wasim, the 16-year-old child actor who landed in a controversy after meeting chief minister Mehbooba Mufti, has received support from unexpected quarters.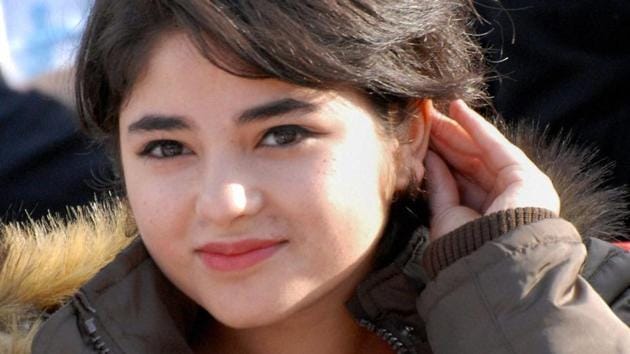 Updated on Jan 21, 2017 04:21 PM IST
Hindustan Times, Srinagar |
, Srinagar
Ashiq Hussain
Zaira Wasim, the 16-year-old child actor who landed in a controversy after meeting chief minister Mehbooba Mufti, has received support from unexpected quarters.
Muhammad Bin Qasim, the son of the separatist couple Asiya Andrabi and Dr Muhammad Qasim Faktoo, commented on Facebook that Zaira – who achieved cinematic fame by featuring in Aamir Khan-starrer Dangal – has proved herself to be a "girl of substance" by tweeting against Union sports minister Vijay Goel recently.
The 26-year-old MBA graduate also castigated Kashmiris who abused and burnt posters of Zaira on Friday. "I do not know Zaira Wasim personally, but after reading her posts and recent tweets, I have realised that she is a girl of substance. I am not posting this status to applaud her brilliant performance in Dangal. Instead, I am applauding how she stood up against the hypocrites who target us – especially the Indian media and Indian citizens…" wrote Qasim, who has been studying in Australia.
Zaira, who played the younger version of wrestling champ Geeta Phogat in Dangal, had apologised to the Kashmiri people for "offending" them by meeting Mufti. Many in the Valley hold the chief minister in utter contempt over the unrest that enveloped the region in the aftermath of Hizbul Mujahideen commander Burhan Wani's killing by security personnel. Nearly 90 people died in the violence that followed.
Qasim initially branded the entire Kashmiri community as "ignorant" for targeting Zaira. "Jaahil Qawm hae Kashmir (the Kashmir community is ignorant). We are only pushing her away, #Zaira is an intelligent, bright and awesome kid who needs us!" he said.
Though he apologised after receiving angry responses from netizens, Qasim remained firm in his support for Zaira. "If anybody was offended by my Jaahil Qawm comment, I would like to clarify that it was not directed towards them… I was referring to the people who burnt the picture of a 16-year-old girl after she spoke in defence of the hijab. Zaira is just a kid, and she has publicly acknowledged that she is not proud of what she did. She also gave a befitting reply to BJP minister Goel. Anyway, apologies if I hurt your sentiments. Goodnight," he wrote.
The sports minister recently tweeted the photo of a painting depicting a woman in a hijab, and another inside a cage. His tweet read: "This painting tells a story similar to @zairawasim. Pinjara tod kar humari betiyaan badhne lagi hai aage (Our daughters have broken through the cage to move forward). More power to our daughters!"
The tweet failed to impress Zaira, who shot back at Goel for linking her to such a "discourteous depiction". However, neither the child actor's apology nor her defence of the hijab assuaged the feelings of certain masked protesters, who burnt her posters at Nawhatta in Srinagar on Friday. A message printed on a black-and-white poster read: "Justice would be to kill you."
Another poster, with a more muted message, read: "Dear Zaira, we don't disrespect you. You may be the role model of India and Aamir, but Kashmir's role model is sister Insha."
Insha is a 14-year-old girl who lost her eyesight to pellets fired by Indian security forces during the violent agitations following Wani's death.
However, Qasim claimed Zaira has set an example by speaking what she truly believed in. "Kashmiris who abuse #Zaira are illiterate, uneducated, and do not represent us. It was our moral responsibility to stand by her, and make her feel safe, after she posted the apology. Instead, some people burned down her pictures. This is a disgrace and a shame. I am not saying that working in Bollywood is right or something we should encourage – I am just saying that we should guide this 16-year-old girl towards righteousness. Burning her pictures has to stop," he wrote.
Qasim's mother, Asiya Andrabi, is a staunch Pakistan supporter who has been placed under house arrest. His father, Faktoo, has been in jail for the last 24 years.
Andrabi had earlier advised the actor to "return from the filth of Bollywood", saying Zaira cannot be blamed because she was just a child working in the film with her parents' consent.
Close Story