Dantewada police chief breaks down as he recounts Maoist attack
Updated on Oct 30, 2018 08:25 PM IST
The attack on a media team in Maoist-affected Dantewada district left a Doordarshan cameraman and two policemen dead and two other policemen injured and came as media teams visited a village that will vote for the first time in 20 years in the November 12 Chhattisgarh assembly election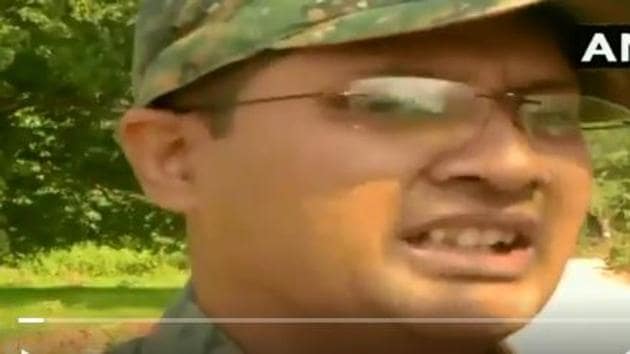 Dantewada police chief Abhishek Pallav Tuesday found it hard to keep his composure as he spoke about the Maoist attack that left a Doordarshan cameraman and two policemen dead in the insurgency-hit Chhattisgarh district.
Breaking down as he recounted the sequence of events, he said that media teams had been visiting Nilwaya village whose residents will vote for the first time since 1998 in the November 12 assembly elections and reporting on how the Maoists were ill-treating the local people. This, he said, had irked the Maoists who had decided to target any media team visiting the village.
"Two-three days back... six media teams had visited the village. Village residents talked to them from the heart for half an hour to an hour. They told them how they would be voting for the first time in 20 years, how the (newly-constructed) road was their lifeline," Pallav told ANI.
Pallav found it hard to control his emotions as he said how villagers had told him that they will not give up on the road despite Maoists threats and beatings, as it was "their lifeline". "They told me, 'sir, we will die but we will get the road done'. When the villagers refused to heed the Naxals' diktat, Naxals from 5-6 areas decided to target CRPF and the media," he said.
"They (Maoists) had repeatedly said media persons are coming.. have made it tourism... were reporting on their atrocities, their ill-treatment of villagers..." he said, citing the case of a woman who was injured in the foot and it had swollen up alarmingly but the Maoists did not let her get treatment till a police team reached the village Monday and took her away to hospital.
"Today when they (Maoists) fired, they didn't target police but the media. They assaulted one and snatched away his camera and the other two crawled near 150 metres to escape as the Naxals fired 50 to 100 rounds fired on them. If one of the policeman had not knocked down one of the Naxals, the two would have been killed," he said.
Two police personnel - assistant sub-inspector of police Rudra Pratap and constable Manglu - and Doordarshan cameraman Acchutanand Sahu were killed and two other policemen injured in the attack.
Personalise your news feed. Follow trending topics