Daring rescue ends Navy Commander Abhilash Tomy's 70-hour ordeal, wife still waits for phone call
Sep 25, 2018 01:10 AM IST
Tomy suffered a debilitating back injury on September 21 after the rough seas and powerful winds pummeled his yacht, sending it into a 360-degree spin and dismasting the 10-metre long boat built in Goa.
A dramatic rescue unfolded in the one of the remotest spots on Earth on Monday, with the crew of French patrol vessel Osiris hauling out a severely injured Commander Abhilash Tomy from his crippled yacht, ending the champion sailor's 70-hour ordeal in the southern Indian Ocean.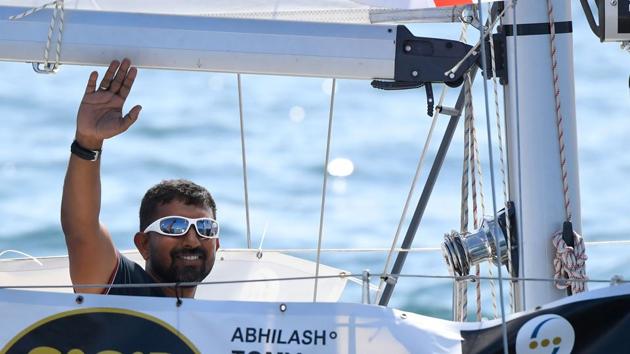 His wife, who hasn't slept since news of the accident broke, said late on Monday evening that she is dying to hear his voice.
Tomy was conscious and talking, rescue authorities said. He is being taken him to Ile Amsterdam, a 55-sq km island that is part of French territory, where he will be treated at a small medical facility.
Tomy suffered a debilitating back injury on September 21 after the rough seas and powerful winds pummeled his yacht, sending it into a 360-degree spin and dismasting the 10-metre long boat built in Goa. Tomy, a decorated naval officer, was representing India at the Golden Globe Race 2018 (GGR), a punishing 30,000-mile solo circumnavigation of the globe.
The Indian Navy said crew of French fisheries patrol vessel Osiris reached Tomy's location on Monday morning (11.30 am, India time) and launched a Zodiac inflatable boat to retrieve him using a stretcher. He was given first aid on the vessel.
"Tomy is conscious, talking and on board the Osiris. Australian and Indian long-range P8 reconnaissance aircraft are circling overhead," the GGR website quoted the Joint Rescue Coordination Centre, Australia, as saying.
The last 70 hours have been harrowing for Urmimala Nag, Tomy's wife. "I haven't slept for the last 70 hours and I am not able to process information in my head. I am waiting for a phone call from the ship. I need to speak to Tomy. I haven't spoken to him in a long time. There was no way to talk to him after the race began," she said.
The two married only a few months ago.
For much of the 70 hours, Tomy was lying incapacitated on a bunk inside Thurayi, with 14-metre high waves and 130kmph winds battering his boat.
Tomy's mentor and accomplished sailor Captain Dilip Donde (retd) said, "Most people don't see those kind of rough seas in their entire lives. Most cannot even imagine how terrible that patch of the Indian Ocean can be. You have to face nature's raw power and struggle to survive."
Tomy was a part of the support crew during 2008-10 for the first Indian solo circumnavigation by Donde. Donde described Tomy as a "focused and determined" man who "will get on with things he has decided to do."
Tomy became the first Indian to circumnavigate the globe on board his boat Mhadei – solo, non-stop and unassisted in 2013 (Donde's effort wasn't non-stop). He was awarded India's second-highest peace-time gallantry award, Kirti Chakra, for the feat.
The Osiris will also pick up another GGR competitor, Irishman Gregor McGuckin, who is also stranded in the same area before heading to the island, although he isn't injured.
"Once the two solo yachtsmen are safely aboard the Osiris, the ship will proceed to Amsterdam Island where the rescued sailors will be given a full medical examination. The hospital is well equipped with X-ray and ultrasound equipment," said an update on the GGR website, calling the weather conditions favourable.
The island is around 100 nautical miles north of Tomy's rescue position.
"A sense of relief to know that naval officer @abhilashtomy is rescued by the French fishing vessel. He's conscious and doing okay. The vessel will shift him to a nearby island (I'lle Amsterdam) by evening. INS Satpura will take him to Mauritius for medical attention," defence minister Nirmala Sitharaman tweeted after the successful rescue.
Stealth frigate INS Satpura with an embarked Chetak Helicopter is expected to reach the island by Friday.
"The Indian Navy is truly indebted to all the agencies involved in this rescue operation, especially Royal Australian Navy and Osiris for their timely and proactive help," said Indian Navy chief Admiral Sunil Lanba.
The exact nature of Tomy's injuries will be revealed only after he reaches Amsterdam Island on Tuesday, said Commander Neil Manjooran, who looks after the navy's sailing activities and is coordinating with the GGR.
The remote island is 2,490 nautical miles from Chennai, 2,160 from Perth, 1,680 from Port Louis and 1,980 nautical miles of Diego Garcia.
Before the accident, Tomy was in the third position among 11 international participants and had sailed over 10,500 nautical miles since the race began on July 1. This is the 50th year of the race that commemorates Robin Knox-Johnston's feat in 1968, with participants required to operate under the same conditions, using unpowered boats. and navigating using charts and the stars.
Commissioned in the Indian Navy in 2000, Tomy has sailed more than 52,000 miles in his 18-year naval career. He trained the all-woman crew of Indian Navy's sailing vessel Tarini that created history by circumnavigating the globe in a gruelling 254-day voyage this year.