Delhi HC transfers same-sex marriage petitions to Supreme Court
Jan 31, 2023 12:38 AM IST
The Delhi high court on Monday transferred to the Supreme Court a bunch of petitions seeking legal recognition of same sex-marriage under various matrimonial statutes.
The Delhi high court on Monday transferred to the Supreme Court a bunch of petitions seeking legal recognition of same sex-marriage under various matrimonial statutes.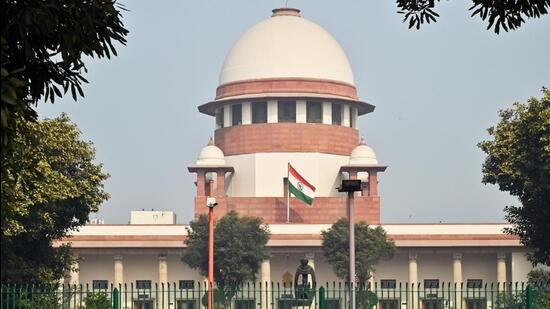 A bench of chief justice Satish Chandra Sharma and justice Subramonium Prasad transferred the pleas after it noted that the top court on January 6 had transferred all petitions on the same issue in various high courts across the country to itself.
The bench directed its registry to transfer the case files immediately to the Supreme Court.
On January 6, the top court transferred all the pleas to itself and directed the Centre to file its response by February 15 for the matters to be heard in March.
A bench of Chief Justice of India Dhananjaya Y Chandrachud, and justices PS Narasimha and JB Pardiwala, had said: "Since several batches of petitions are pending before diverse high courts involving the same question, we are of the view that they be transferred and decided by this court."
The high court was hearing a batch of petitions, some by people belonging to the LGBTQ community, seeking recognition of their marriage under various matrimonial laws such as Special Marriage Act, Hindu Marriage Act and Foreign Marriage Act. Further, issues of privacy were raised by certain petitioners as registration under the Special Marriage Act requires advance notice of 30 days inviting objections before a marriage is to be solemnised.
Eight petitions have been filed in the Delhi high court on the issue. One each has also been filed in the Kerala and Gujarat high courts.
Petitioners Abhijit Iyer Mitra, Gopi Shankar, Giti Thadani and G Oorvasi, through counsel Raghav Awasthi, contended that the Hindu Marriage Act does not distinguish between heterosexual and homosexual marriages if one were to go by how it is worded. The act clearly states that marriage can be solemnised between "any two Hindus," they argued.
Another petition, filed by mental health professionals Kavita Arora and Ankita Khanna, seeks legal recognition of their marriages under the Special Marriage Act and the Foreign Marriage Act.
The petition by Vaibhav Jain (Indian) and Parag Vijay Mehta (overseas citizen of India), who got married in 2017 in the US where same sex marriage is legal, pointed out that an Indian consulate has refused to register their union under the Foreign Marriage Act.
On September 6, 2018, the top court's five-judge Constitution bench unanimously held that consensual sex among adult homosexuals or heterosexuals in private spaces is not a crime, and struck down a part of a British-era penal law that criminalised it on the grounds that it violated the constitutional right to equality and dignity.
In an affidavit filed before the Delhi high court in 2021 in a similar case, the Union government strongly opposed the validation of same-sex marital unions, underlining that a marriage in India can be recognised only if it is between a "biological man" and a "biological woman" capable of producing children.
The government said any interference by a court in the marital statute based on personal laws will create "havoc" in society and will run afoul of the intent of Parliament in framing the laws.
According to global think tank Council of Foreign Relations, same sex marriages are legal in at least 30 countries, including the United States, Australia, Canada and France.