Demonetisation effect: 2,500 lose jobs as Howrah jute mill shuts
The workers of the mill, which is located at Ghusuri in Howrah district and is just about 7 km away from Kolkata, will not be paid for the course of suspension of work.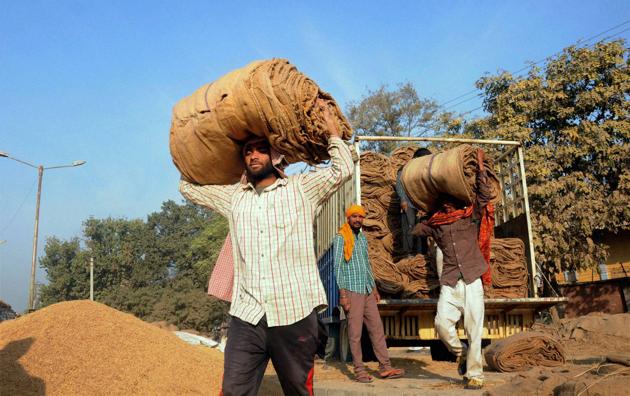 Updated on Dec 06, 2016 04:33 PM IST
A jute mill in West Bengal's Howrah district has temporarily closed down citing its inability to pay workers in the absence of Rs 500 and Rs 1,000 notes that were scrapped by the Narendra Modi government.
The notice by the management of Sree Hanuman Jute Mills that threw about 2,500 workers out of jobs was issued around 10pm on Monday, on a day chief minister Mamata Banerjee apprehended a loss of at least Rs 5,000 crore in the state due to the Centre's demonetisation drive.
"With deep regrets management is hereby informed to the general body of workers and the operative Trade Unions of this mill that regarding delay of payment of wages due to discontinuation of CURRENCY NOTE Rs 500/- & Rs 1000/- non co-operation activities from the part of some workers have been increasing day by day causing labour unrest, unlawful violence activities has took place in each and every shift (sic)," read the notice.
"The Management has compelled to declared "TEMPORARY SUSPENSION OF WORK" on and from 10:00 PM dated 05.12.2016 till further notice," it added.
The workers of the mill, which is located at Ghusuri in Howrah district and is just about 7 km away from Kolkata, will not be paid for the course of suspension of work.
Though small business establishments reported great inconvenience leading to loss of jobs in the unorganised sectors, this is the first big bang closure of an industrial unit.
The decision of the management is bound to fuel the strident opposition of chief minister Banerjee who is trying to organise opposition all over the country against the demonetisation move of Prime Minister Modi.
"A number of business units have closed down in the district and this bloodbath will continue till the draconian decision is withdrawn," Arup Ray, cooperation minister and Trinamool president of Howrah town, said.
In the third week of November, Hindustan Times reported how the demonetisation drive triggered a crisis for the jute mills in the state that employ more than 2.5 lakh workers. Nearly 95% of the workers in this industry receive their wages in cash.
Indian Jute Mills Association (IJMA) has also written to the state government seeking urgent intervention.
Hundreds of workers who gathered at the gates on Tuesday morning to report for duty were both aghast and angry at the decision of the management.
"In the name of demonetisation, the Centre has already caused tremendous sufferings to individual employers, employees and agriculture. It is extremely regrettable that a jute mill has to down its shutters throwing the lives of so many workers in jeopardy," Mahesh Singhania, president of West Bengal Trade Associations, said.
Industry insiders have told HT that in several mills the raw jute stock is almost exhausted and will automatically halt production. Only 10-12% of farmers accept payment for raw jute through bank accounts.
"Due to demonetisation of high currency denomination bank notes by the Government of India and limitation on withdrawal from bank accounts, there is a shortage of cash thereby affecting the raw jute trade," a letter signed by IJMA chairperson Raghavendra Gupta said.
Close Story
Personalise your news feed. Follow trending topics