Despite flak, Centre firm on forest policy
Jun 28, 2018 10:45 PM IST
As per official data, the environment ministry rejected only 7% of the proposals for forest land diversion it received in 2016.
Even as environmentalists in Delhi protest felling of old growth trees for redevelopment projects, the central government is preparing to finalise a new forest policy, the draft of which has drawn criticism for its focus on planting trees rather than conserving forests and ecosystems.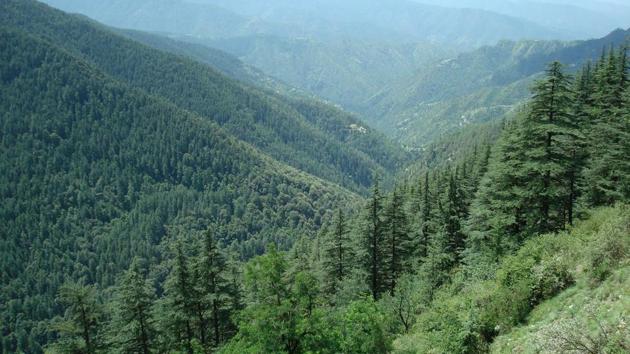 The policy mooted by the Union environment ministry is an important document because the country's forests face immense pressure — not just from forest-dependent communities, but also from industrial and development projects that require clearing of forest land.
As per official data, the environment ministry rejected only 7% of the proposals for forest land diversion it received in 2016.
In March, the central government released a policy draft that proposes to replace the National Forest Policy, 1988, and was open for comments until April 14. The environment ministry received over 700 comments. "The new policy will be finalised within two months," Siddhanta Das, director general of forests, said.
A large chunk of the feedback centred on the involvement of the private sector in managing forests within forest land.
The draft calls for public-private partnerships to undertake afforestation in degraded forest areas, and even in open forests, where the tree canopy density is between 10% and 40%.
"There are some misconceptions, we will clarify some provisions in the final version," Das said. Allowing private-sector participation in plantations on forest land will "help to increase green cover in waste lands, in degraded forest lands and help to make open forests more dense," Das said, but ruled out the possibility of the controversial policy guidelines being dropped.
Environmentalists fear that this not just means clearing forests for commercial purposes but the commercialisation of the forest resources itself.
The draft put forward signified a major departure from the existing policy, which encourages use of wood substitutes to reduce pressure on the forests.
The draft policy talks of ensuring self-sufficiency in timber production with an emphasis on the idea that "wood is good," encouraging its use in everything from construction to making furniture. There are no carbon emissions released in producing this raw material unlike steel or plastic, backers argue.
The most recent biennial State of Forest report released by the Forest Survey of India showed that the country has registered a marginal increase (0.21%) in forest cover between 2015 and 2017. Increasing green cover has an additional advantage: locking in carbon emissions to meet India's nationally determined contribution (NDC) of creating an additional carbon sink (a system that absorbs carbon dioxide) of 2.3 to 3 billion tonnes of CO2 equivalent.
However, critics say this approach doesn't give due consideration to whether the saplings survive, and to the ecological services lost when old growth and diversified forests are lost.
"The emphasis needs to be on conservation of existing forests, not so much on the productivity of forests, or viewing it as an economic resource. Ecosystem services like refugia for wildlife, carbon sequestration and watershed services are only provided by old-growth forests, which take hundreds of years to evolve,"?Prerna Singh Bindra, a conservationist, said.
"They cannot be compensated by simply planting tree saplings, the survival rate of which is anyway very poor," Bindra added.
The push for private participation is also controversial.
"Forest governance has gone through a lot of changes over the last decade, there has been a huge push for decentralisation, the forest policy does not clarify how the private participation is going to interact with the decentralised decision-making," Kanchi Kohli, a researcher at the Centre for Policy Research, said.
"The Forest Rights Act, 2006, tried to democratise decision-making through the gram sabha. A policy thrust seems to assume that private sector participation is the best model," Kohli added.