Dibrugarh University geologist discovers platinum in Assam
Oct 12, 2018 12:58 PM IST
Assam has become the fourth state in the country after Odisha, Karnataka and Tamil Nadu where the rare metal has been found
In a rare find, a senior geologist from Dibrugarh University in Assam has detected the presence of platinum deposits in the state's Karbi Anglong district recently.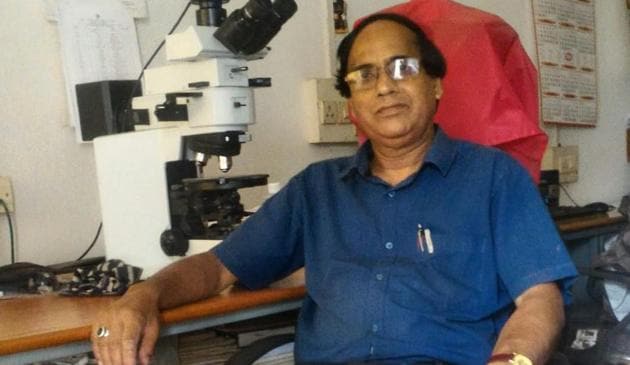 Dilip Majumdar, Dean, School of Earth, Atmospheric Science, Environment and Energy at the university found the rare and expensive metal in a remote hill, around 250 km from the state capital.
This is the first instance of platinum being found in the northeast . Assam becomes the fourth state in the country after Odisha, Karnataka and Tamil Nadu where the rare metal has been found.
"It is a very significant find. Preliminary investigation establishes presence of platinum. We were able to confirm using scanning electron microscope and X-ray powder diffraction technique," said Majumdar.
The professor in applied geology began working in Karbi Anglong this January and samples were collected. Since platinum can't be detected through naked eyes, tests were carried out at the university on samples from the site.
"We got positive results last week. I have shared the findings with few other experts outside Assam and they too have confirmed the presence of platinum," Majumdar said.
Along with platinum other minerals like iron, vanadium and titanium were also found at the site in Karbi Anglong.
"Details of how much platinum is present at the site will be known with further studies and maybe use of remote sensing technology. But initial observations suggest, the deposit could be big," he said.
He did not divulge the exact spot where the mineral was found for fear that it may lead to a rush of people.
The state government said the commercial extraction of the mineral could benefit Assam and the northeast.
"Presence of platinum in Assam is indeed very good news. Since it is a rare metal and is expensive, commercial extraction of it would benefit not just the region but also Assam. Our state is rich in minerals and the aim of my department is to explore possibilities of more such findings," said Assam's mines and minerals minister Sum Ronghang who hails from Karbi Anglong doistrict.
Used in telecommunication pharmaceutical, jewelry and manufacture of high-tech laboratory equipment platinum is expensive because of rarity and growing demand.
On Thursday, the metal was priced at Rs 1,958/gram in Indian markets.
South Africa has the highest platinum deposits in the world with Bushveld Complex in the country being the single biggest source.
In India, the biggest reserves were found in Baula Nausahi in Odisha, followed by Hanumalpura in Karnataka and Sittampundi and Mettuppalaiyam in Tamil Nadu.