Djoker laughs his way to 22nd slam, equals record
Jan 30, 2023 12:23 AM IST
This was an emotional triumph unlike any other even for the thick-skinned and largely poker-faced Djokovic
If the 2022 Australian Open was about the miracle of Melbourne Park, the 2023 Australian Open is about the return of the monarch of Melbourne Park. Two tales, 12 months apart, with an overriding common factor: Novak Djokovic.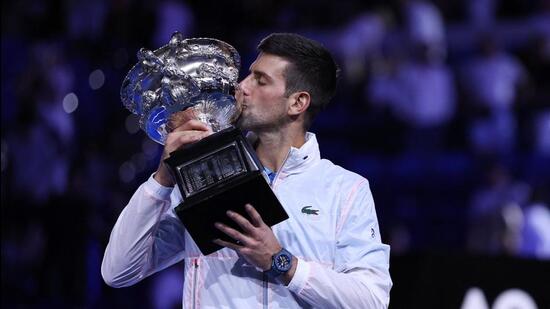 Last year, Djokovic, disgraced and deported from Australia, watched from afar as Rafael Nadal overcame an injury layoff and a two-set deficit in the final to win the tournament in one of the most extraordinary comebacks. This year, Djokovic, triumphant and teary-eyed, was right in the middle of Rod Laver Arena holding aloft a record-extending 10th Australian Open title. One that got him level with his greatest rival on 22 in the all-time Grand Slam count list.
"I'll probably say this is the biggest victory in my life, considering the circumstances," Djokovic said on court after beating Greece's Stefanos Tsitsipas 6-3, 7-6 (4), 7-6 (5) in Sunday's final.
Those circumstances were as dramatic as they were damaging for the Serb. Djokovic, the most successful male player to have ever set foot in the season-opening Grand Slam, had been blocked from entering Australia last year for being unvaccinated and not providing substantial reason for a medical exemption. Held up for hours at the Melbourne airport and for days at a glorified detention centre in the city, Djokovic was eventually deported and his visa revoked after multiple rounds of court hearings.
Without a vaccine shot, Djokovic could not take a shot at the title.
Still unjabbed, Djokovic's visa ban was however lifted as Australia relaxed its vaccine mandate for international travellers. Re-entering a country and its tournaments is one thing, dominating it again with the increased spotlight and scrutiny quite another.
No amount of circus around the Djoker seems to affect his tennis, though. Not even having to relive those difficult moments from last year amid repeated questions during his title run in the Adelaide tune-up event. Not even having to defend his father who sat out of his son's last two matches in Melbourne for posing with a group of people carrying Russian flags with Vladimir Putin's face after the quarter-final.
Champion of controversies, as he often does, turns champion nonetheless.
And when he did, after two hours and 56 minutes of largely dominating Tsitsipas in the final, Djokovic stood still, pointed his index finger to the mind and then his heart. Moments later, the Serb charged towards his box, hugged his team members and broke down slumping in his mother's shoulders. Falling to the ground, he continued sobbing almost uncontrollably.
This was an emotional triumph unlike any other even for the thick-skinned and largely poker-faced Djokovic.
"Only my team and family know what we have been through in the last four to five weeks," he said.
"What a journey it has been. This has been one of the most challenging tournaments I've ever played in my life. Considering the circumstances, not having played last year, coming back this year."
Coming back to doing what he does best: own the Australian Open.
Only two players have ever collected double-digit titles in a single Grand Slam, with Djokovic joining Nadal who has won the French Open a whopping 14 times. The Serb has matched the Spaniard in the overall Grand Slam record to reignite the captivating race in the GOAT (greatest of all time) narrative. There's no doubting Djokovic could well replicate Nadal's French supremacy in Australia.
The monarch of Melbourne Park, after all, is back.