The problem of growing drug addiction among Kashmiri youths missing focus in years of Valley's conflict
Combined cases of drug abuse and related psychological issues also went up from more than 14,500 cases in 2014 to 33,222 in 2016, a staggering 130% increase in two years. This year till April alone, this number is 13,352.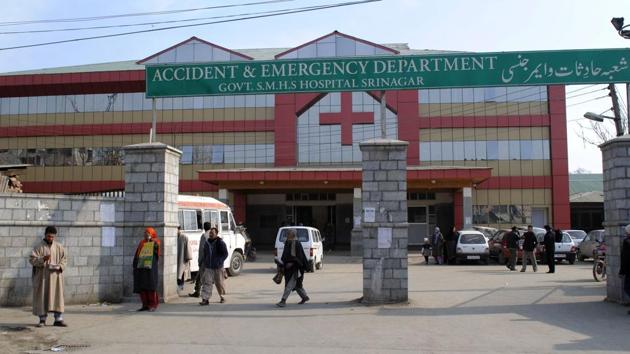 Updated on Oct 05, 2017 12:32 PM IST
Rahim Ahmad was just 12 years old when he fell in love with a girl from his neighbourhood. But the affair did not last and a heartbroken Rahim, then a Class 7 student, took to cannabis.
His school grades started falling and he dropped out in Class 10; his parents brought him to a de-addiction centre recently.
"I was a bit depressed after the failed relationship and friends introduced me to it (cannabis)...but soon I became addicted and used to spend Rs120-Rs 400 daily," he told HT, a cocky youngster with haggard looks.
Years of conflict, marked by bomb blasts and gun battles, have shrouded one of Kashmir's biggest problems: rising drug abuse among the Valley's youth.
Data from Srinagar's SMHS Hospital — one of the biggest in the state — show an 85% increase in the number of drug and substance abuse cases, from 410 in 2014 to 759 in 2016.
Combined cases of drug abuse and related psychological issues also went up from more than 14,500 cases in 2014 to 33,222 in 2016, a staggering 130% increase in two years. This year till April alone, this number is 13,352.
A United Nations International Drug Control Programme survey in 2008 estimated 70,000 drug addicts in Kashmir, out of which 4,000 were women.
Though recent statewide numbers are not available, the data shows the growing problem in a state where militancy has killed thousands of people — including civilians and security personnel — over the years.
Read: Young Kashmiris pursue their dreams in half-burnt school buildings
Experts say the geographical location of Jammu and Kashmir helps in easy availability of drugs in the state; police say mostly from Pakistan. The ongoing turmoil has also played a huge role in pushing many to drugs, which many see as a means to escape the pain of the never-ending war.
"Stress and the overall turmoil naturally play a role but other factors like peer pressure, unemployment, easy availability (of the drugs) and the fact that no one wants to talk about the issue is an area of concern, too," said Arshad Hussain, a leading psychiatrist and professor, who has been practising for 17 years at the SMHS Hospital.
But despite the problem, there are only two operational de-addiction centres in Srinagar — one run by the police at Batamaloo and the other at the SMHS Hospital.
Talking about the issue is still considered a taboo — the de-addiction centre at SMHS hospital is called a 'community centre'. Officials said this has been done to ensure that those seeking help don't face social stigma.
From cannabis to medicinal opioids to inhalants such as glue and paint thinner, the youth of Kashmir are getting hooked to different substances, officials said.
But it is cannabis that is most commonly used, largely due to its easy availability.
Rahim Ahmad from Anantnag in South Kashmir, who was first introduced to cannabis by his neighbourhood friends, said even cleaners and sanitation staff sell it by the roadside to make quick money.
Cannabis is considered a gateway drug, a common medical parlance used to describe substances that supposedly lead users on to more addictive or dangerous drugs.
Arshad Hussain also said between 2000 and early 2008, substance abuse was seen mostly in the age group of 18-35.
"It was limited to the use of medicinal opioids. However, currently the addiction has reached as low as 10-year-olds getting into solvent abuse. It is in schools that they are getting introduced to cannabis now," he said.
He also pointed to a correlation between mental illness and the use of cannabis.
"In most of the cases of psychiatry problems, we found that 70% tested positive for cannabis, especially in the case of men."
"The stigma has to be removed. It is still considered a taboo subject. Naturally, those who want help will think twice before coming forward. The government needs to ensure that school authorities counsel students at the young age itself," Hussain added.
Read | Losing sight in Kashmir: Pellet guns shatter many dreams
Education minister Syed Altaf Bukhari acknowledged that drug abuse is a problem among school children but played down the situation.
"The problem is there but it is minuscule as far as schools are concerned. It is certainly not alarming. Young students get influenced in this age especially due to the peer pressure. There is also a huge disconnect between the parents and children these days. The environment in the Valley also plays a part. We have asked schools to ensure there is proper counselling provided to students," he added.
Most of the patients admitted to the hospital are between the age group of 15 an 35 years and of these 90% are between 15 and 25, officials said.
Patients from Srinagar, Anantnag, Pulwama, Torda among others come from far-flung areas to get help, they said.
"I dropped out of college because of this habit. I was brought to the hospital five days back. My mother is aware but I haven't told my father. Once I am fine I will move out of Srinagar. It's a little depressing here so will move out of the state and stay with my sister," said Rehmat, another youth undergoing rehabilitation.
According to home department data, between October 2014- 2016, more than 3800 people were treated for de-addiction in Jammu, Srinagar, Anantnag and Baramulla. The highest number of cases came from Srinagar (2,260), followed by Jammu (610), Anantnag (603) and Baramulla (391).
Last week, state director general of police SP Vaid sent out a tweet from the official account of Jammu and Kashmir Police. "Let's free Kashmir from gun, grenade, drugs and bring peace, prosperity and smiles," he said.
It just showed how deep-rooted the problem of drug abuse in Kashmir is – alongside guns and grenades.
Close Story