Dushyant launches new party, stakes claim to Devi Lal's legacy
Dec 10, 2018 08:00 AM IST
MP Dushyant Chautala said if their party was voted to power, they would waive farm loans, introduce a law to cap fee in private schools and bring back the old pension scheme.
A month after he was expelled from the Indian National Lok Dal (INLD) by his grandfather and former Haryana chief minister Om Prakash Chautala, Hisar MP Dushyant Chautala on Sunday launched a new political outfit Jannayak Janta Dal at a rally here, considered the political heartland of the state.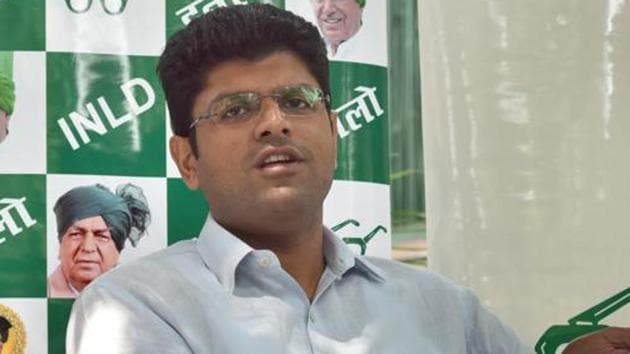 Dushyant and his brother Digvijay, sons of OP Chautala's elder son Ajay, were expelled from INLD last month after an internal inquiry found them guilty of indiscipline. A few days later, Ajay too was expelled from the party on grounds of indulging in anti-party activities. On November 17, Ajay, out on parole, announced the plan to float a new party. Ajay Chautala, undergoing a 10-year jail term with father Om Prakash Chautala since 2013 in a teachers' recruitment scam, could not attend the rally as he was denied parole.
Addressing the rally, Dushyant said following the ideology of his great-grandfather, he was launching the party to decimate the ruling BJP, Congress and the INLD in Haryana. Dushyant's new party flag has the photo of his great-grandfather, former deputy prime minister and two-time Haryana CM, Devi Lal. Dushyant said his father Ajay was the rightful successor to Devi Lal's pagdi (turban, a symbol of legacy).
Launching scathing attacks on rival parties, Dushyant said the Congress in its 10-year rule in Haryana robbed poor farmers of their land in every district. He said if their party was voted to power, they would waive farm loans, introduce a law to cap fee in private schools and bring back the old pension scheme.
Sometime in November, a 22-year-old automobile showroom employee in Assam's Tinsukia stumbled upon a Facebook group named Xunjukto Mukti Bahini Asom, the Assamese name for the separatist United Liberation Front of Assam (ULFA). "The group had photos of the flag of [Paresh Barua-led] ULFA [Independent] and there were posts about how Assamese youth need to rise up against the aggression they face. Then some days later, somebody called Babul Asom called me and asked if I would join," he said. He added he was having a bad day when the call came. "For a moment I wanted to join, but I told him I need to think."
Before he could make up his mind, the Assam police detained him for questioning three days later after keeping him under watch. The showroom employee, who is being counselled, is not alone. Police say as many as 22 people, including five girls, have over the last three years been counselled against joining the banned group.
Assam police's intelligence wing chief, Pallab Bhattacharyya, blamed the furore over the Citizenship (Amendment) Bill, 2016, which proposes to grant Indian nationality to religious minorities from Bangladesh, Pakistan, and Afghanistan, for giving a fresh lease of life to the ULFA (Independent)".
Assam's indigenous groups oppose the proposed amendment as they feel it will marginalise them further by encouraging more migrations of the Hindus from neighbouring Bangladesh. They feel the ongoing exercise to update the National Register of Citizens (NRC) will have no meaning if Hindu Bangladeshis are allowed to become citizens and settle in Assam. The exercise is being conducted in line with the 1985 Assam Accord, which sought to detect and deport illegal immigrants. The pact was signed to end the six-year-old Assam agitation against illegal immigrants from Bangladesh, Over 800 people were killed in the agitation.