Latest from dushyant chautala
Punjab CM Bhagwant Mann tweeted, "Punjab and Haryana have agreed to name the Chandigarh International Airport after Shaheed Bhagat Singh. A meeting in this regard took place with the Haryana deputy CM."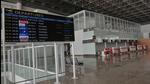 Published on Aug 20, 2022 11:54 PM IST
Chautala said in addition to sowing of crops, embroidery, primary work related to fruits, vegetables, tea leaves, coffee, fish, animals etc are also exempted.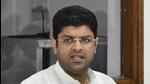 Updated on Jan 19, 2022 03:58 AM IST
A heli-hub providing hangar and repair facilities to be set up in Gurugram.


Updated on Jan 05, 2022 04:49 PM IST
The private sector job quota move was piloted by Dushyant Chautala's Jannayak Janta Party, coalition partner of the Bharatiya Janata Party in Haryana.


Published on Dec 01, 2021 10:38 PM IST
In a now-viral video clip, Sinha is seen asking policemen to 'break the head' of protesters who had gathered to protest against Haryana CM ML Khattar and state BJP leaders in Karnal.

Published on Aug 29, 2021 03:27 PM IST