EC slams 'so-called' demonstration of EVM tampering, Kejriwal's party accepts hackathon challenge
Updated on May 10, 2017 08:11 AM IST
The Election Commission has rubbished the Aam Aadmi Party's demonstration to show that an electronic voting machine could be hacked because it was simply a 'look alike' machine but different gadget.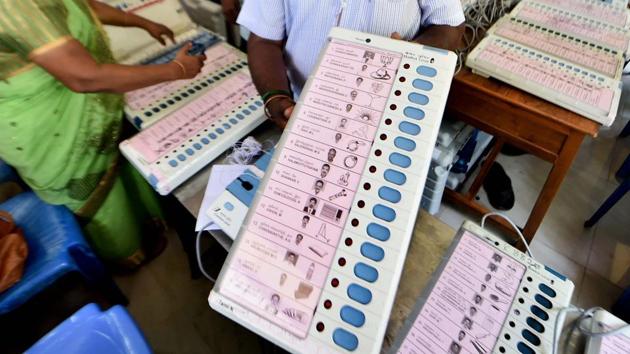 The Election Commission on Tuesday trashed the Aam Aadmi Party's claims of hacking an electronic voting machine (EVM) during a demonstration in the Delhi assembly, saying anyone can make a "lookalike" gadget to justify "magic or tampering".
The poll panel issued a strongly worded statement shortly after the Arvind Kejriwal-led AAP claimed to have hacked a replica of an EVM to proved allegations that the system can be tampered with to favour a particular party.
"The so-called demonstration of tampering of 'look alike' EVM cannot be exploited to influence intelligent citizens and electorate to assail or vilify the EVMs used by the commission in its electoral process," it said.
The commission, which is mandated to conduct elections to the state assemblies and the Lok Sabha, said it was possible for anyone to make any electronic gadget, which looks like the ECI's EVM and demonstrate any "magic or tampering".
"Very simply put, any 'look-alike'' machine is just a different gadget, which is manifestly designed and made to function in a 'tampered' manner and has no relevance, incidence or bearing on the Commission's EVMs," the panel added.
The EC dismissed the claims and said gadgets other than its own EVMs can be programmed to perform in a pre-determined way, "but it simply cannot be implied that the ECI's EVMs will behave in the same manner, because those are technically secured and function under an elaborate administrative and security protocol."
Officials also said any machine that is carried out without permission from the secured premises of the commission ceases to be an EVM that is used in elections.
After the BSP and the AAP leveled allegations of EVM tampering after assembly elections in five states recently, the EC had vehemently denied that the machines can be manipulated. Both AAP and the BSP had alleged that the EVMs used in the February-March assembly polls were manipulated to sway the outcome in favour of the BJP and have been demanding reverting to paper ballots.
To quell doubts the efficacy of machines, the EC also announced an EVM hackathon, the dates for which will be announced after an all party meeting on May 12.
All national and recognised parties have been asked to depute their representatives for the hackathon that will be hosted at the EC's headquarters.
Personalise your news feed. Follow trending topics