Endangered sloth bear that was smuggled into Nepal brought back to India
The 19-year-old bear, Rangila, will be transported to a bear rescue facility in Agra.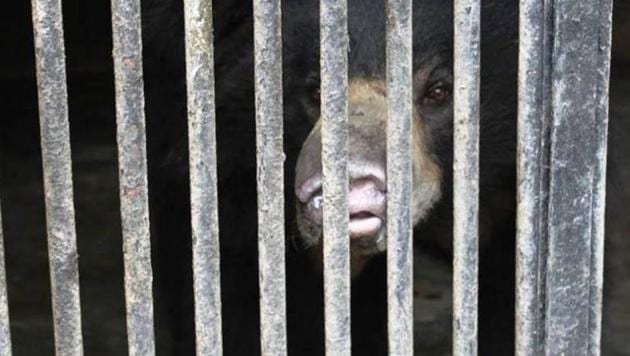 Updated on Jul 11, 2018 04:40 PM IST
A 19-year-old male sloth bear, Rangila, which was smuggled to Nepal from India seven months ago, was repatriated to India on Tuesday from Kathmandu zoo.
Rangila and a female sloth bear, Sarita, 17, who died of injuries a few months ago, had been smuggled to Nepal by wildlife traffickers. An official from the union environment ministry said: "After seven months of paperwork, we can confirm that the bear is on its way back to India."
The central government with the help of two NGOs – Wildlife SOS and Nepal-based Jane Goodall Institute - repatriated Rangila to India.
"Our team started the journey with the bear from Nepal on Tuesday morning. We are grateful that government officials, especially the director general of forests, both India and Nepal, and Jane Goodall Institute for extending their support to facilitate this repatriation," said Kartick Satyanaraya, co-founder and CEO, Wildlife SOS.
The bear will be transported to Wildlife SOS' Agra Bear Rescue Facility, home to 200 rescued bears currently.
According to Wildlife SOS, the bears were rescued in December from the Indo-Nepalese border while they were being smuggled. The two traffickers were detained by the police. "These bears are smuggled to Nepal and mostly used in circuses, a practice banned in India but still prevalent in Nepal," said Satyanarayan.
Close Story