Fate of jailed Rohingyas in Northeast hangs in the balance, infiltration fears mount
Officials say they would deal with the Rohingyas according to what the Centre decides about 40,000 other such refugees elsewhere in India.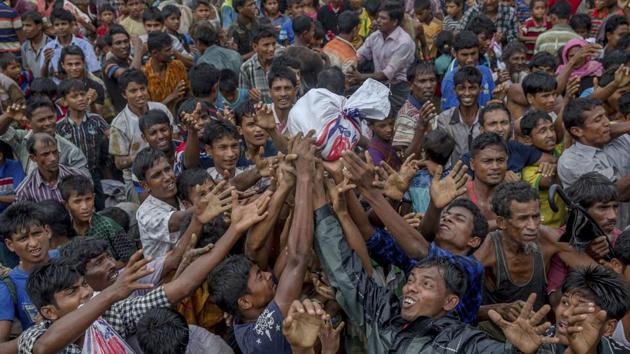 Updated on Sep 19, 2017 08:46 PM IST
Hindustan Times, Agartala/Imphal |
Priyanka Deb Barman & Sobhapati Samom
Four Rohingya Muslims, caught entering Tripura illegally in June, were sent to a protective home in state capital Agartala last week. They were presumed to be Bangladeshis before the United Nations High Commissioner for Refugees (UNHCR) established their identity.
The four – Jabeda Khatun, 50, and her son Mohammad Tareq, 20, Syed Karim, 35, and his wife Fatema Akhter, 21 – were arrested from Teliamura railway station in Khowai district on June 9. They claimed they were from Cox's Bazaar in Bangladesh but could not produce passport or any other valid documents.
"We had arrested them for violating two rules pertaining to passport and sent to police custody in Khowai. A local court later prescribed two months' imprisonment for them," a senior police officer said on condition of anonymity.
The four were to have been pushed back to Bangladesh after their term ended on August 9. But an emailed letter from UNHCR on August 8 informed the state administration that the four were Rohingyas, not Bangladeshis, and had fled from Myanmar.
Among the four, Syed Karim was identified as a refugee under UNHCR mandate and also had a refugee card.
The sudden change in the situation made the government shift the four to Mahatma Gandhi Protective Home in Agartala's Narsingarh area on September 15. Since August 9, they had been kept in a government quarter as Khowai does not have a protective home.
Officials said they would deal with the four Rohingyas according to what the Centre decides about 40,000 other such refugees elsewhere in India. The ruling Left Front in Tripura, though, does not favour the deportation of the Rohingyas from the state, particularly Fatima who is five months pregnant.
Manipur too is facing a dilemma over 25 Rohingya Muslims, arrested over several years for trespass, lodged in the state's jails. Fifteen of these 25 have already served their jail terms and are awaiting deportation.
Delhi had earlier tried to deport them but Myanmar officials said they do not have record of their having been citizens of their country.
"The jailed Rohingyas are a serious issue for us. And in view of the crackdown in Myanmar, we have sounded an alert to ensure they do not infiltrate," Manipur chief minister Nongthombam Biren said.
Manipur shares a 398-km border with Myanmar. But officials think there is more likelihood of Rohingyas infiltrating through Assam from Bangladesh.
Close Story
Personalise your news feed. Follow trending topics