FIR filed against army over killing of two civilians in Kashmir's Shopian
Updated on Jan 29, 2018 07:55 AM IST
The police slapped murder and attempted to murder charges against the army's 10th Garhwal Rifles.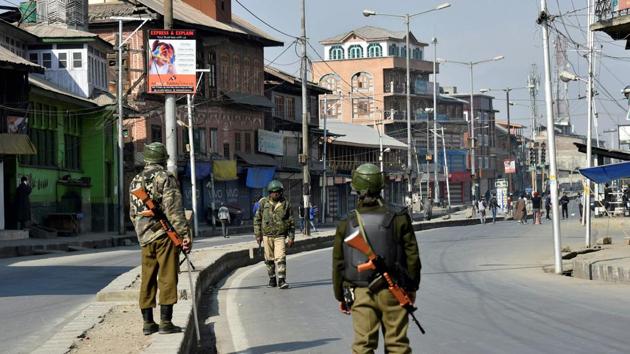 The Jammu & Kashmir police has registered an FIR against the Indian army, charging its 10th Garhwal unit with murder, attempt to murder and endangering life, over the killing of two civilians in south Kashmir's Shopian district on Saturday, officials said on Sunday.
Javid Bhat and Suhail Lone, both in their 20s, were killed when army opened fire on protesters in Ganaupora village in south Kashmir's Shopian district on Saturday afternoon. Another youth, who sustained bullet injuries, is battling for his life at the Sher-I-Kashmir Institute of Medical Sciences in Srinagar.
A senior police officer confirmed that an FIR (26/2018) was filed at the Shopian police station against the army's 10th Garhwal unit. "The charges under sections 302, 307 and 336 are pressed," the officer said.
The Army says it opened fire in self-defence after a convoy came under heavy stone-pelting by protesters who allegedly tried to snatch the weapon of a soldier and lynch him.
Some villagers were, however, quoted in the local press as saying that the army opened fire after an altercation ensued over the security personnel's attempt to remove posters of a slain militant in the village.
Firdous Ahmed, a militant killed in an encounter in south Kashmir on January 24, was a resident of Ganaupora.
Experts said that such killings could vitiate the political atmosphere in the troubled region and hit several newly launched reconciliation policies by the PDP-BJP coalition government, which recently said it was considering amnesty to second-time stone pelters in the Kashmir Valley, after withdrawing cases against over 9,000 first-time stone pelters.
The Centre is pushing for steps to bolster efforts by newly appointed special interlocutor Dineshwar Sharma to kick-start a dialogue and restore peace in the state. The state police has also been reiterating its stand on bringing back local militants into the mainstream and have encouraged them to surrender. Police has recently even said that said they need not come to police stations to surrender but can "simply join their families'' under the "no case no apprehension policy".
A strike called by separatist leadership to protest the killings paralysed normal life in the Valley on Sunday. The roads remained deserted and local train services across Kashmir was suspended. Restrictions on movement were imposed in some sensitive areas of Srinagar. High-speed mobile internet services, which remained snapped throughout the day, were restored at night.
The deputy commissioner of Shopian has been asked to probe the incident and submit a report within 20 days.
"No agency or force should be allowed to vitiate the atmosphere. If government is serious about the policies it has taken recently, then the forces should have been taken on board, in clear terms, so that such incidents could have been avoided. This vicious cycle has to stop," said Srinagar-based political analyst Noor Baba.
Former chief minister Omar Abdullah attempted to corner the government over the incident. "2 civilians dead & many others injured. The first month of 2018 has been a terrible one for J&K, death has cast its ugly shadow far too often already," he tweeted.
After Saturday's incident, chief minister Mehbooba Mufti called Union defence minister Nirmala Sitharaman to express anguish over the civilian deaths. Sitharaman assured the chief minister that she would seek a detailed report on the matter and will ensure that such incidents do not recur.
In an official press statement, Mufti was quoted as telling Sitharaman: "Every civilian killing, notwithstanding how erroneously made, impairs the political process in the state which has been put on track after hard work by all political parties."
The two deaths in Shopian took the toll of civilian killings due to firing by forces in Kashmir to four this month. On January 24, 17-year-old Shakir Ahmad was killed after security forces allegedly opened fire on protesters near – an incident that the police said was a case of "cross-fire". Earlier, on January 9, 22-year-old Khalid Ahmad Dar died during protests after army fired on a group that was allegedly pelting stones at a military camp in Khudwani in Kulgam.
In 2017, according to police figures, at least 24 civilians had lost their lives during gun battles between security forces and militants in Kashmir.