India completes nuclear triad with INS Arihant's first patrol
PM Modi said the first deterrence patrol marks the successful establishment of India's nuclear triad.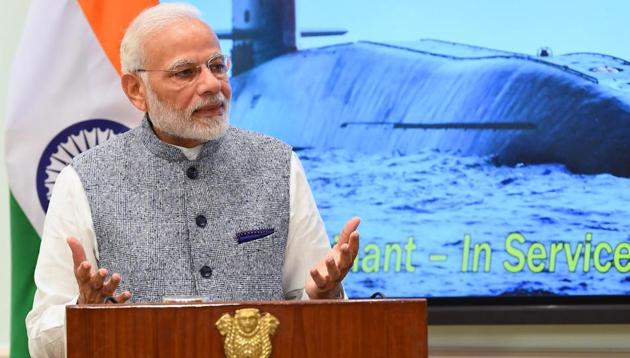 Updated on Nov 06, 2018 12:25 AM IST
Prime Minister Narendra Modi on Monday triumphantly announced that India's first indigenous nuclear-powered ballistic missile submarine, INS Arihant, has successfully completed its first deterrence patrol and that the success of the submarine "gives a fitting response to those who indulge in nuclear blackmail", in his first comments on the top-secret Advanced Technology Vessel (ATV) project. The fully operational submarine completes the sea leg of India's nuclear triad, giving it enduring nuclear strike and counterstrike capabilities.
"Today is historic because it marks the completing of the successful establishment of the nuclear triad. India's nuclear triad will be an important pillar of global peace and stability," Modi wrote in a series of tweets on Arihant.
The United States, Russia, the United Kingdom, France and China are the only countries that can deliver nuclear warheads from a submarine.
The 6,000-tonne Arihant, which means destroyer of enemies, is armed with 12 B-05 submarine-launched ballistic missiles (SLBMs) capable of delivering nuclear warheads up to 750km away. The range, however, is a limitation and India needs to deploy SLBMs capable of striking targets thousands of kilometres away, experts said.
"True to its name, INS Arihant will protect the 130 crore Indians from external threats," Modi said in another tweet on India's newest nuclear delivery platform, after meeting the boat's crew on Monday. The Prime Minister's Office (PMO) said INS Arihant had "recently returned" from its maiden deterrence patrol.
What does this actually mean? "The submarine is fully operational now, the crew has worked and the missiles are loaded. It will stay on continuous deterrence patrols and when the signal goes out from New Delhi to INS Arihant, it should be able to launch a nuclear missile," explained Admiral Arun Prakash, a former navy chief.
India already has the capability to carry out nuclear strikes with fighter planes and land-launched missiles. The Agni series of ballistic missiles and warplanes such as Sukhoi-30s and French-origin Mirage-2000s can deliver nuclear warheads.
The Rafale fighters ordered from France are also nuclear capable.
"INS Arihant has completed India's nuclear triad and I would say it's the biggest development of the century so far in the maritime domain," said Admiral Robin Dhowan, also a former navy chief.
India needs to deploy more SSBNs (ship submersible ballistic nuclear) to reinforce its strategic deterrence force at sea. The second Arihant-class submarine, called INS Arighat, was secretly launched last year and is likely to join the naval fleet in 2021.
Navy officers are not authorised to speak about the secret programme to build SSBNs, a subject directly handled by the PMO, but people familiar with the matter said India could deploy a total of five Arihant-class boats.
The last two Arihant-class submarines are expected to be bigger and capable of launching longer range missiles. These boats could be armed with K-4 SLBMs capable of striking targets up to 3,500km away.
"It is critical to have SLBMs that have a range of 3,000km to 4,000km. The current range is not good enough. But yes, it is a deterrent. It's a message to our adversaries, 'don't even think about launching a pre-emptive nuclear strike against India because we are fully ready to hit you back instantly," said Prakash, a decorated 1971 war hero.
He said the next objective should be to deploy at least three SSBNs for continuous patrols in the Bay of Bengal and the Arabian Sea.
"Remember, one SSBN may be under refit at any given time. And refueling it can take up to a year. You have to cut up the submarine, remove the Uranium rods, add fresh Uranium fuel and weld it up again," Prakash added.
The first functional patrol undertaken by INS Arihant is a significant landmark in India's continuing and steady development of its nuclear triad of land-based, air-delivered and submarine-launched nuclear weapons, said Shyam Saran, a former foreign secretary and ex-chairman of the National Security Advisory Board.
"However, for a true triad India will need at least three to five such submarines and longer range SLBMs. There is still some distance to cover for a true triad," Saran added.
Topics
Close Story
Personalise your news feed. Follow trending topics