Five months ago, residents warned Pune builder about the tilted wall
The residents of Alcon Stylus alleged on Saturday that they had warned the developer of the housing society about the dangerous condition of the retaining wall of one of the buildings five months ago, but no action was taken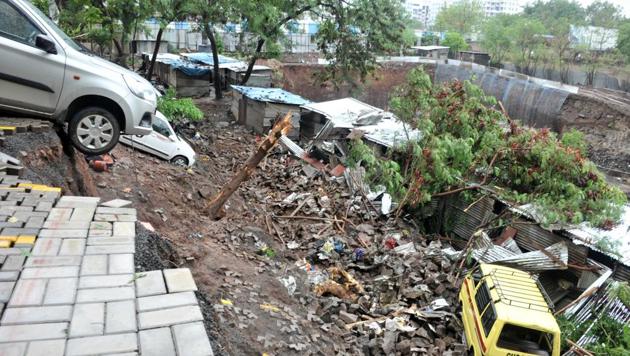 Updated on Jun 30, 2019 04:30 PM IST
Pune | By Parth Welankar and Nadeem Inamdar
, Pune
The residents of Alcon Stylus claimed that they had cautioned the builder in February about the problems in the wall due to the excavation work underway in the nearby underconstruction site.
Meanwhile, chief minister Devendra Fadnavis ordered an in-depth inquiry into the wall collapse that claimed 15 lives amid hints that irregularities in construction may have led to the incident.
A 15-foot high compound wall of the newly built Alcon Stylus housing society in Kondhwa area collapsed post midnight on shanties that were part of a labourers' camp set up at an adjacent construction site. Residents of the society suspecting some problems had discussed the issue with the builder during a meeting in February. They had also written an email and sent the minutes of the meeting to Saurabh Rao, Pune Municipal Corporation commissioner.
The email mentioned that Jagdish Agarwal, director of the Alcon Landmark, had told the members that the structure is safe and if anything happens then he will take care of it.
"We would recommend that a proper structure audit of our building Alcon Stylus be carried out," it said.
The Kondhwa police have filed an FIR against 15 people, including the developers, contractor, site engineer and supervisor of the construction site as well as of the housing society whose wall caved in. Two builders were arrested late on Saturday night.
Fadnavis in a tweet said, "Extremely saddened to know about the loss of lives in the Kondhwa, Pune wall collapse incident. My deepest condolences to the families and praying for the speedy recovery of the injured. I have directed Pune Collector to conduct an in-depth enquiry." (sic)
Following the chief minister's instructions, Naval Kishore Ram, district collector, constituted a committee to probe irregularities as authorities hint at several misdeeds in the wall collapse incident.
Ram said, "Action will be taken against those who are guilty. The committee will submit its report within seven days."
"According to the prima facie reports, we can say that the builder here is at fault. We will conduct a detailed inquiry and the guilty will be punished," he added.
Close Story