Flights to be hit for 15 days in Nov with a runway shut at Delhi airport for repairs
Combined , the three runways of Delhi airport can handle 75 aircraft an hour, the highest in the country. With the closure of one runway, the capacity per hour is likely to reduce to 60.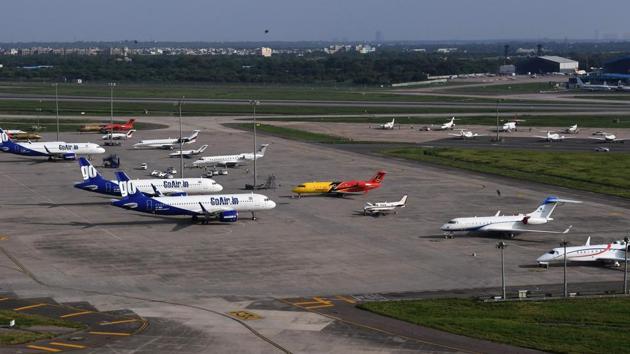 Updated on Oct 04, 2018 12:00 AM IST
Fliers to and from the capital city should brace themselves for flight disruptions this winter, with around 100 flights a day likely to be affected in November, when the Delhi airport plans to close one of its three operational runways for repairs. According to an official of Delhi International Airport Limited (DIAL), runway 27/09, which is also used for VIP operations, will be closed for 13 days starting November 15. This is also the period that the city experiences fog and haze, courtesy the onset of winter and deteriorating air
quality.
Airlines might have to cancel some flights as Delhi airport is already operating beyond its capacity and will not be in a position to give extra slots. The airport is also likely to witness congestion and the waiting time to land might increase further. The Delhi airport handles around 1300 flights a day.
Interestingly, the announcement comes weeks after officials said fliers travelling to and from Chhatrapati Shivaji Maharaj International Airport (CSMIA) in Mumbai were likely to face delays if they were scheduled to travel between February 7 and March 30 next year for the same reason — work on runways. Around 700 domestic flights are expected to be affected every week during this period and all international flights during this period will be rescheduled. The work will be done on Tuesdays, Thursday and Saturdays except on March 21, 2019 when there will no runway closure because of the Holi holiday. Mumbai airport handles around 950 flights a day.
The only good news for fliers is that the runway work in India's two busiest airports isn't coinciding.
"DIAL is planning the closure of Runway 27/09 to carry out preventive repairs. The work is scheduled to be undertaken for 13 day duration starting from 15th November 2018. This will lower the capacity of IGI Airport by 50 arrivals and 50 departures per day in this duration. This work is essential for safe aircraft operations and to avoid sudden disruptions that causes greater impact due to time required for planning the logistics," said a spokesperson for DIAL.
The other two runways- at the airport, 10/28 and 11/29 will be available to handle the air traffic but since Delhi airport handles almost 1300 flights every day, handling them with two available runways won't be possible.
Combined , the three runways of Delhi airport can handle 75 aircraft an hour, the highest in the country. With the closure of one runway, the capacity per hour is likely to reduce to 60, which means aircrafts will have to wait before landing and take-off.
Airlines, especially low cost ones, prefer to use runway 9/27 as it is near Terminal 1, from where they operate most of their flights and not much fuel is required while taxing because of less distance between runway and terminal. According to the International Civil Aviation Organization guidelines, the lifespan of a typical runway pavement worldwide is around 20 years, although airport operators must carry out the necessary repair work once every five to six years to deal with any sign of runway pavement distress or cracks.
A Spicejet spokesperson said "Departures will be affected while in Delhi during the repair work, 15 flights will be affected everyday". The airline did not make it clear whether these flights will be cancelled or rescheduled.
Close Story
Personalise your news feed. Follow trending topics