Flood situation remains grim in Assam and Tripura, people stranded as villages submerged
Hindustan Times, Guwahati/Agartala |
Utpal Parashar and Priyanka Deb Barman
Jun 18, 2018 06:51 PM IST
Incessant rains from last week have killed 15 people across Assam and Tripura, apart from displacing thousands from their homes. Four rivers in Assam are above danger level while Tripura's major rivers have returned to normalcy.
The flood situation in several parts of Assam and Tripura continued to remain grim on Monday, a week after heavy rainfall lashed the northeast, killing 15 people and displacing thousands from their homes.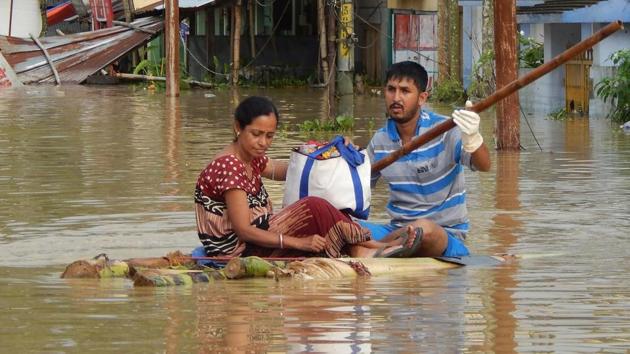 Nearly 5.5 lakh people in six districts of Assam — Nagaon, Hojai, Golaghat, Cachar, Hailakandi and Karimganj — remained affected by flood waters. Around 1.6 lakh people have found shelter in 437 relief camps in the state.
Two flood-related deaths were reported across the state — one each in Cachar and Hailakandi — in the past 24 hours, taking the total death toll to 13.
A total of 719 villages and localities in the state continued to remain submerged under flood waters and nearly 2,200 hectares of crop area affected. Rescue teams evacuated 8,201 affected people to safety.
Four rivers in Assam — Dhansiri, Barak, Katakhal and Kushiyara — continued to flow above the danger level in five places.
In Tripura, more than 70,000 persons are stranded at relief camps set up at several parts of the state due to incessant rainfall that triggered floods last week.
Latest report from State Emergency Operation Centre said total 72,391 flood-affected victims from 18,169 families took refuge at 195 relief camps.
Three persons lost their lives – two due to floods and one in a landslide, and 10 were injured in the flood. A total of 350 houses were damaged.
Water-level of major rivers have come to normal with no forecast warning of more rains.
Train services remained affected as some portions of railway tracks are under flood-water. The Northeast Frontier Railways (NFR) said six train services from Agartala to Dharmanagar and Silchar in Assam and vice versa were cancelled on Monday.
Since June 1, rainfall has been recorded at 377.7 mm in the state, said an Indian Meteorological Department official.