Flu season in India: How prepared are you?
Oct 14, 2018 11:10 AM IST
In 2018, India has confirmed 5,651 cases and 464 deaths from H1N1, the predominant flu strain across states, till October 7.
We've all had several bouts of influenza or the flu, which causes headaches, runny nose, cough and muscle pain. This viral infection is self-limiting, with severe illness lasting for two to three days and most people recovering within a week after using non-prescription medicines for fever and pain.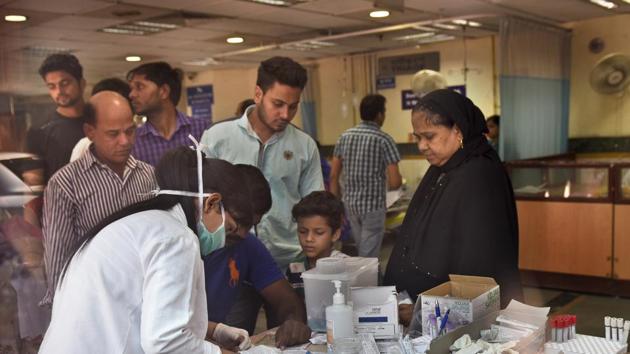 It's not considered a serious illness because it rarely causes hospitalisation in healthy people and kills causing complications and co-infections and aggravating existing illnesses. The cause of death is rarely recorded as influenza. It kills up to 650,000 people every year, estimates the World Health Organisation, with most deaths occurring from pneumonia, heart or brain inflammation and circulatory shock from organs not getting enough blood or oxygen.
2018 marks the 100th anniversary of 1918 influenza pandemic popularly known as "Spanish flu", which infected an estimated 500 million people worldwide — about one-third of the planet's then population — and killed between 20 million to 50 million people, including in India. The only decade in which India's population did not register a decadal growth is 1910-1920, according to the Census of India, with experts attributing the reversal in population growth to increased deaths from the flu.
Highly Contagious
The flu spreads easily among people in close contact or in contained spaces, such as classrooms, offices and public transport. On September 5, an Emirates Airline flight from Dubai was quarantined for hours at John F Kennedy International Airport in New York after 100 passengers and crew members complained of cough and fever. Suspecting they could have a serious respiratory illness called Middle East Respiratory Syndrome (MERS), all the ill passengers were tested for a range of diseases. They were diagnosed with influenza, no one had MERS.
In 2018, India has confirmed 5,651 cases and 464 deaths from H1N1, the predominant flu strain across states, till October 7.
The influenza virus has a quicksilver ability to mutate to evade the body's immune systems and infect more easily. If the mutation creates a brand new virus that can spread infection from people to people and against which humans have no immunity, pandemics occur, like the H1N1 pandemic in 2009-10 that spread across continents within weeks.
Unlike in the temperate zones where the flu virus circulates and infects in the coldest season twice a year (once each in the winters of the northern and southern hemispheres), infection continues year-round in the tropics and subtropics after peaking in the winter months.
Vaccine Protection
Young children, older people, pregnant women, or people with weakened immune systems, should get vaccinated against the flu at start of winter every year, recommends the WHO, which evaluates and recommends vaccines against the dominant influenza viruses that are projected to cause the most disease.
The recommendations are made in February/March for the following influenza season in the northern hemisphere and in September for the southern hemisphere because six to eight months are needed to produce and approve vaccines. For the northern hemisphere, the recommended vaccine for 2018-19 is a quadrivalent vaccine containing A/Michigan (H1N1), A/Singapore (H3N2), B/Colorado; and B/Phuket viruses.
The vaccine is safe as the viruses are inactivated, and though some people may feel feverish for a day or two after vaccination, it does not cause influenza. Some people may get the flu even after getting vaccinated because the vaccine does not protect against the dozens of flu viruses causing infections, but vaccination lowers the severity of disease and the risk of associated complications.
The best time to get vaccinated is in October before the start of the flu season in India, where it peaks in February and March. It takes about two weeks after vaccination for the antibodies to develop and protect against infection, and the effect lasts for about a year.
Exciting news! Hindustan Times is now on WhatsApp Channels
Subscribe today by clicking the link and stay updated with the latest news!"
Click here!
Get
Latest India News
along with
Latest News
and
Top Headlines
from India and around the world