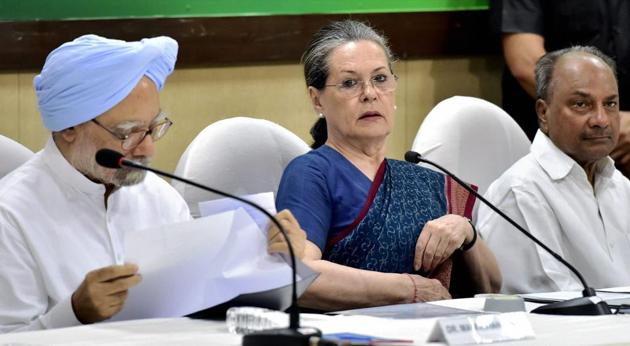 Forces of darkness on the rise, we have to protect India from them: Sonia Gandhi
Congress president's speech riddled with allusions to the BJP, though she did not name any party or organisation her speech hitting out at communalism
New Delhi | By Agencies
, New Delhi
UPDATED ON AUG 09, 2017 02:48 PM IST
Congress president Sonia Gandhi urged people on Wednesday to protect the roots of India's democracy against "forces of darkness" in a speech in Parliament punctuated with allusions to her arch-rival BJP, which she did not name directly. (PARLIAMENT LIVE UPDATES)
She used her speech in the Lok Sabha during a special discussion to mark the 75th anniversary of the Quit India movement to underline contributions the Congress and Jawaharlal Nehru made to an episode that is seen as pivotal to campaign that would eventually win India freedom from British rule.
"We will not allow the idea of India to be a prisoner to narrow mindedness and communal ideology. Today it looks secularism and free speech are in danger. If we have to preserve freedom, we'll have to defeat forces endangering it. We can't and we won't allow sectarian forces to succeed," she said.
Her Congress party has often accused Prime Minister Narendra Modi's Bharatiya Janata Party of communalism.
"If we want to keep our freedom safe, we will have to fight the repressive forces, does not matter how strong and powerful they are. We have to fight for Bharat, where everyone is free," she said, reading from a prepared statement.
It should not be forgotten, she said, that there were people and organisations which had opposed the Quit India movement and made no contribution to the country's freedom.
Though she did not name any party or leader in her attack, Hindutva organisation RSS, the ideological mentor of the BJP, appeared to be Gandhi's target since the Congress has often accused it of playing no role in the freedom movement. The RSS has always denied it.
Close