FY24 budget may nudge states to take up reforms
Jan 30, 2023 12:19 AM IST
The Indian economy has been in a stronger position compared to other major global economies despite headwinds like the aftermath of pandemic and the Ukraine war
New Delhi: The budget to be presented in Parliament on Wednesday may nudge states to undertake reforms through targeted financial incentives and could extend the ₹1.07 lakh crore long-term, interest-free loans for another year with increased outlay to boost growth through capital expenditure, people aware of development said.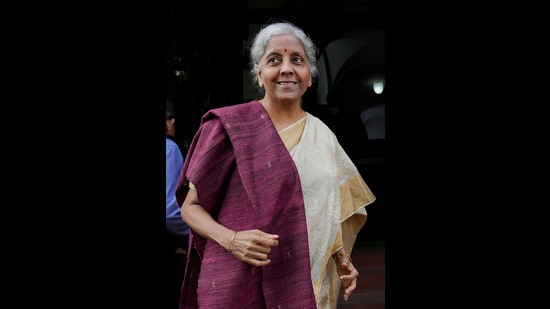 The Indian economy has been in a stronger position compared to other major global economies despite headwinds like the aftermath of pandemic and the Ukraine war because of the Centre's strategy to provide additional resources to states in previous budgets and nudge them to spend on creating infrastructure and initiating citizen-centric reforms, they said, requesting anonymity. This strategy worked well and will continue in 2023-24, they added.
"Such measures helped the economy in the past as states are the real engine of growth and implementors of reforms. The ₹1.07 lakh crore scheme – Special Assistance to States for Capital Investment in 2022-23 – has approved projects worth ₹77,110 crore by December 2022 and Centre has already released over ₹41,000 crore. Such investments have multiplier effects on the economy," one of them said.
The scheme offers 50-year, interest-free loans to states over their annual borrowing limits. In her previous budget speech in February, finance minister Nirmala Sitharaman raised the amount of special assistance by about 900% for 2022-23 from the budget estimate (BE) of ₹10,000 crore in 2021-22. However, the amount for 2021-22 was later increased to ₹15,000 crore. Initially in 2020-21, its corpus was ₹12,000 crore.
"An enhanced allocation under the special assistance is also expected in 2023-24. It will be over and above the normal borrowing ceiling for the states, which is expected to be at 3.5% of their GSDP (gross state domestic product). Out of 3.5% limit, 0.5% is likely to be tied to power sector reforms," a second person said.
The special assistance is currently provided to states for their investments in infra projects such as PM GatiShakti, building rural roads under the PM Gram Sadak Yojana, digitisation of the economy, digital payments, laying of optical fibre cables, urban reforms such as town planning, road transport and scrapping of old vehicles. The PM Gati Shakti programme was announced in 2021 to break departmental silos and bring in integrated planning and execution of projects with a view to address the issues of multi-modal and last-mile connectivity.
"The government has been providing additional fiscal incentives to states to push reforms and raise capital expenditure to accelerate growth. It will continue even in this budget," the first person said. Soon after the Covid-19 pandemic hit the country, the government focused on economic growth through increased capital expenditure and reforms at the state level.
During her interaction with the Panchjanya magazine on January 15, Sitharaman said the central government has been raising the outlay on capital expenditure in each budget since 2020, hinting that the process of asset creation will continue in 2023-24. In her budget for 2022-23, she raised capital expenditure by 35.4% to ₹7.5 lakh crore, triggering a multiplier effect on the economy.
"With this investment taken together with the provision made for creation of capital assets through Grants-in-Aid to States, the 'Effective Capital Expenditure' of the Central Government is estimated at ₹10.68 lakh crore in 2022-23, which will be about 4.1 per cent of GDP," the finance minister said in her budget speech last year.
Her focus on economic revival through capital expenditure and deep reforms was especially prominent during the pandemic period. The first major announcement to this effect came on May 17, 2020, when the finance minister announced a stimulus package amid the Covid-19 pandemic. She announced raising the borrowing limit of states by an additional 2% of GSDP in 2020-21, worth over ₹427,300 crore. While the first 0.5% or ₹106,830 crore was unconditional, the remaining was on condition that the states will implement various citizen-centric reforms.
The post-pandemic economic recovery in India has been supported by enhanced public capital spending by both the central and state governments, according to a report released on January 16 by the Reserve Bank of India (RBI). "As a result, fiscal stimulus by design emphasized sustainable and non-inflationary normalization of economic activity," said the RBI report on state finances, which focused on states' role in capital formation in India.
It is imperative for states to continue with the current capex push to sustain the quality of expenditure and maintain capital assets so that their longevity improves, the report said.
"In addition, States should also step up capex in areas like research and development and green energy. States can also realize the full benefit of positive spillover effects by facilitating higher interstate trade and businesses. Going ahead, all tiers of government must engage along with private participation to create world-class capital assets in India," it added.