Generations of doubtful voters in Assam fight off Bangladeshi tag
They were sent to a detention camp in Goalpara near the Bangladesh border after being marked as D-voters by the Election Commission.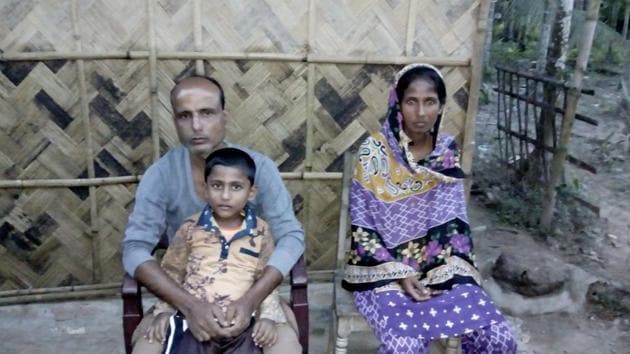 Updated on Nov 02, 2017 07:59 AM IST
The Bangladeshi tag is off Kismati Ali's forehead. It's now time for his elder brother Yusuf to prove he is Indian.
The Alis are from Chhatia village in Uttar Pradesh's Deoria district. But after more than two years in captivity and thousands of rupees spent on a legal fight to erase his 'D-voter' status, Kismat now wishes their father Mukhtar hadn't come to Assam in the early 1950s to be a truck driver.
A D-voter in Assam is a voter whose citizenship is in doubt.
Mukhtar, 40, was marked as a D-voter by the Election Commission allegedly without investigation in 2006, the year he cast his first vote. He was served a notice, but failure to turn up for a hearing saw him being declared a 'foreigner' via an ex-parte or one-sided — the state, in this case — judgment.
On August 12, 2015, he was sent to a detention camp in Goalpara near the Bangladesh border, about 260 km west of his No 1 Sonaghuli village on the Bhutan border, in Udalguri district.
Assam, now ruled by a BJP-led coalition, is the only state with a police force dedicated to stopping illegal influx; the force was the result of an agreement signed between the Centre, state and the All Assam Students' Union (AASU), which led a six-year-old movement against illegal migration, mainly from Bangladesh.
Illegal migration is both a sensitive and controversial issue in Assam as many fear that large-scale migration of Bangladeshis is posing a threat to the identity of the indigenous communities.
Congress balanced the fear of the indigenous groups with that of migrants' fear of being driven out to rule for 15 years before the BJP worked up sentiments against the infiltrators. Prime Minister Narendra Modi ran a successful election campaign promising to drive out Bangladeshi migrants.
Kismat walked to freedom on October 30 after spending two years two months and 17 days in the detention camp, one of six in Assam housing about 1,100 "foreigners".
"Par iske liye bahot kuchh khona para (But I had to lose everything I had for this freedom)," Kismat told HT from his village, about 160 km north-east of Guwahati.
His brother Yusuf, who deals in scrap, sustained his family that includes an elder widowed sister.
Yusuf has also been served a D-voter notice. But he feels the worst is over for him as his younger brother has "served my share of captivity".
Kismat, the youngest of four siblings, said they were lucky as their father, Mukhtar, regularly went to his ancestral village in UP to cast his vote before settling down in Assam permanently. "His name was in the UP voters' list published after the 1962 assembly election and he obtained his driving licence in Assam in 1956," Kismat said.
Those papers made Kismat an Indian again, but it came at a price. He approached the Supreme Court after the Gauhati high court dismissed his petition. The apex court ordered a probe by the CBI, which established he was originally from UP.
"There's nothing wrong in the system. But the problem lies in the so-called investigation by EC and Border Police that have to appease the collective conscience of the majority and the government, who believe there are millions of Bangladeshis in Assam," said Aman Wadud, the lawyer for Kismat and Ashraf.
"Hence if they don't find Bangladeshis, they accuse genuine Indian citizens of being Bangladeshis, grossly violating citizenship rights and making mockery of the fundamental rights enshrined in the Constitution," he added.
Assam police chief Mukesh Sahay denied the charge.
"Our force takes care that no genuine Indian citizens are harassed, but action is taken according to inputs gathered from various sources," he added.
Few perhaps know it better than Mohammed Azmal Haque, 49, a retired Indian soldier who was served a notice a few weeks ago to prove his citizenship. "It was a case of mistaken identity," Assam's director general of police Mukesh Sahay said.
Close Story
Personalise your news feed. Follow trending topics