Geological team reaches J-K's Doda district to evaluate cracks
Feb 05, 2023 12:18 AM IST
At least 22 houses were emptied out on Friday and 300 people moved from Doda's Nai Basti after cracks spread across several structures, leading to the collapse of at least three.
Officials in Jammu and Kashmir's Doda said no other buildings developed cracks on Saturday but locals remained afraid, saying they were unsure of whether their homes were safe, even as a team of geological experts started analysis to uncover the root of the problem and how much worse it could become.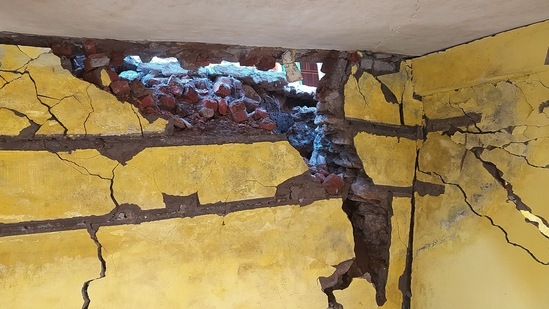 At least 22 houses were emptied out on Friday and 300 people moved from Doda's Nai Basti after cracks spread across several structures, leading to the collapse of at least three. The incident has drawn parallels with the crisis in Joshimath, where over 800 have had to be relocated after cracks spread through buildings as the land shifted.
"The status of the affected houses remains the same. Nineteen houses were severely affected and three collapsed since Thursday but there are no new cracks in the remaining houses so far," Doda district commissioner Vishesh Pal Mahajan said, adding that the extent of the problem is not like the Joshimath crisis.
Also read | 300 moved as 3 Doda houses collapse after cracks emerge
A team of two scientists from geological survey of India (GSI) visited Nai Basti to study the area. "The GSI team visited the village this morning and collected some samples besides surveying the area where land subsidence has occurred," Mahajan said.
A report of their findings may take a few days, he added.
But the lack of new cracks was of little comfort to local residents.
"We fear Joshimath-like crisis. We are praying day and night that land subsidence doesn't spread further. Some among us are trying and removing window panes and doors to salvage something from our houses because people are very poor here and wood is costly," said Owais, 22, a resident of the village.
Among the hardest hit were those who have already had to leave their homes.
Read | Joshimath crisis: A month on, evacuees say forced to live like refugees
"I am reluctant to leave the village. We are ruined. We worked as petty labourers and constructed the house for our children. We appeal the government to do something for us. Where will we go now," asked 38-year-old Shazia Begum, a resident of Nai Basti village in Doda.
The sentiment was echoed by several others across the Nai Basti area, a patch of settlement on a mountainside within the larger Doda town.
Mohammad Akram, 40, said the cracks first appeared in some six to seven houses in December. "We took them lightly because in hilly areas like these mild quakes and water also cause minor cracks in the houses. We applied white cement to cover them, but last week they started widening and spread to more houses," he said.
For some who have remained in their homes, the question on what to do next is a tough one.
"We are very much scared to stay here. We cannot even sit inside our home because the entire area has developed cracks. We seek an appropriate place to stay and provide protection to the children," said an unnamed resident, according to news agency ANI.
Akram, who was among the families evacuated, said: "I request the government to give us 5 marla plot and compensation to construct our houses and rebuild our lives," he added.
The administration in the Union territory has not announced any compensation for the affected resident.
Lt Governor Manoj Sinha on Saturday said the Jammu and Kashmir administration was keeping a close watch but denied the situation was akin to the crisis in Joshimath.
"The best possible assistance will be extended to the affected families. All affected people have been evacuated and there is no need to create much hype. The administration is keeping a close eye on the situation and the best possible action will be initiated," Sinha told reporters on the sidelines of a function at Raj Bhawan.
"I do not have much knowledge. We should have faith in the expert opinion and let them analyse and come out with facts," he said.
The administration has set up relief camps and is providing the evacuees with food and other necessities, officials in the district said.
"Majority of the 300 villagers evacuated from the village have taken shelter in their relatives' houses. In the relief camp set up by the administration, we have 30 to 40 people, who also prefer to go to their relatives' houses in the night," Thathri sub-divisional magistrate Athar Amin Zargar said.
The Doda area falls under seismic zone 4, which indicates a high likelihood of destruction from earthquakes.
Preliminary findings suggested that the water from houses that kept seeping into the ground could have been one of the triggers – there was some land subsidence in the same area in 1980s and new settlements have now come up over the years, potentially exacerbating an old problem.
"The geologists have ruled out that a road constructed around 40 years ago around the village and cutting earth for constructing a shop could have triggered the subsidence," an official said.
To be sure, experts are yet to establish the cause of the cracks, but these are largely believed to be because the land shifted or subsided.