Latest from jammu and kashmir
According to the police, the terrorists were killed during an encounter at Najibhat crossing in the Kreeri area of Baramulla when the joint team of police and army intercepted them moving in a car.

Kashmiri separatist leader Yasin Malik will not be assigned any work at Tihar jail due to security reasons, will be lodged alone inside jail number 7 and will not be entitled to any parole or furlough during his prison term.

On May 10, Malik pleaded guilty under sections 16 (terrorist act), 17 (raising funds for the terrorist act), 18 (conspiracy to commit terrorist act), and 20 (being member of terrorist gang or organisation) of the Unlawful Activities Prevention Act (UAPA) and sections 120-B and 124-A of the IPC.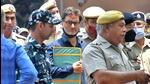 According to J&K Police, terrorists fired at TV artiste Amreen Bhat at her residence in Chadoora town of Budgam at around 8 pm. She was shifted to the hospital in an injured condition after being shot in the neck. However, the doctors declared her dead on arrival.

Amreen Bhat's 10-year-old nephew has been injured after they were fired upon by terrorists in the Chadoora area of central Kashmir's Budgam district.