Girl student of Bihar college murdered, body found on campus, police suspect affair
May 07, 2017 03:58 PM IST
A young girl was bludgeoned to death on college campus. Police suspect it to be a love affair gone awry.
BHAGALPUR A girl student of Tej Narayan Banaili (TNB) College was brutally murdered and her body found on the college campus, Friday morning.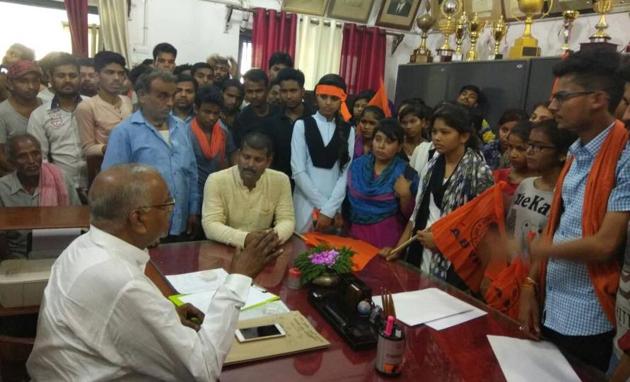 The victim, identified as Sunita Kumari, a part-I student of sociology honours, was found bludgeoned to death in the wee hours of Friday. The recovery of the girl's body and the manner she was killed, created sensation on the college campus.
The victim's defaced body was found at a secluded place, near the physics department, on the western side of the college campus. The victim, a resident of Akbarnagar village, used to travel around 18 kms to the college every day to attend her classes.
The police, quoting the victim's family members, said that Sunita had left home on the pretext of going to college at around 10am on Thursday, even as it was a holiday. She did not return home in the evening.
The police suspect that the girl could be involved in a relationship, which had turned sour. One person has been in this connection.
Senior superintendent of police (SSP), Bhagalpur, Manoj Kumar, said the suspect was picked up near the scene of the crime after the cops found him to be incoherent. Blood stains were also found on the jeans of the suspect. .
The police are also collecting information about Kumari's friends. The SSP said three disposable plates, with left-over food, a vermillion box, besides a bag containing some clothes, were found near the body. The recovery of three disposable plates was indicative of the fact that there were three persons, including the victim, at the scene of the crime, the SSP said.
While the main college building was under CCTV surveillance, the sprawling college campus was largely uncovered, he added. Kumar has ordered a security audit of the college campus. It may be mentioned that a woman was found murdered on the college campus around two years back.
Different student organisations, including the Akhil Bharatiya Vidyarthi Parishad (ABVP) and Chhatra Sangarsh Samiti paralysed college functioning on Friday. They were demanding proper security arrangement on college campus, particularly around the girls hostel. The demands were communicated to the college principal RPC Verma.