Goa Forward Party announces pre-poll alliance with Congress
Written by Joydeep Bose | Edited by Amit Chaturvedi
, Hindustan Times, New Delhi
Dec 18, 2021 01:16 PM IST
Vijay Sardesai, the president of the Goa Forward Party, said, "We had said in the past that on the eve of Goa's 60th Liberation Day, we will give you an alliance that will re-liberate Goa from these elected autocracies."
Ahead of the upcoming Goa assembly elections next year, the Goa Forward Party (GFP) has announced its pre-poll alliance with Congress. The two parties held a joint press conference in Goa on Saturday, where the alliance was confirmed.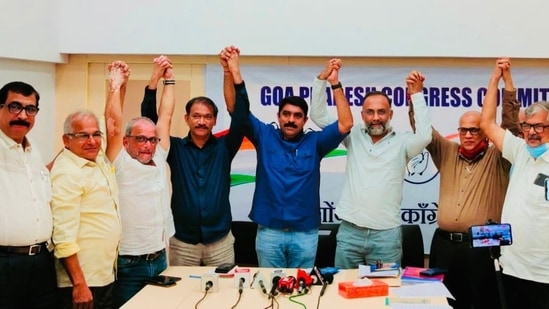 Vijay Sardesai, the president of the Goa Forward Party, said, "We had said in the past that on the eve of Goa's 60th Liberation Day, we will give you an alliance that will re-liberate Goa from these elected autocracies."
Goa Liberation Day is celebrated on December 19 every year to mark the success of 'Operation Vijay' undertaken by the Indian Armed Forces that liberated Goa from Portuguese rule.
"Together for Goa," tweeted the Goa Forward Party from its official handle on Twitter, with a photograph of its leaders joining hands with those of Congress.
Notably, the Goa Forward Party had earlier been a part of the Bharatiya Janata Party (BJP)-led National Democratic Alliance (NDA) and had contested the last state polls together in 2017. However, it left the NDA in 2019, following disagreements with the saffron camp.
"The strong anti-BJP sentiment of the people of Goa is now a formidable force," wrote Sardesai in a tweet on Saturday, shortly after the pre-poll alliance announcement was made. "Liberating Goa is not just our aim, it is every Goemkar's aim. We will work hard together to end the most corrupt, immoral, and unethical government Goa has ever seen."
Last week, Sardesai was invited by Goa Congress in-charge Dinesh Gundu Rao for a meeting with the grand old party's state unit chief Girish Chodankar, which kickstarted the talks of a pre-poll alliance between the two parties.
On November 30, Sardesai met Congress leader Rahul Gandhi and said that he was "proud to be working for the second liberation of Goa with the great-grandson of the person who enabled the first".
"The curse of the communal and anti-Goan Pramod Sawant government will be blown away!" the Goa Forward party president had proclaimed in a tweet.
Meanwhile, Congress released earlier this week the first list of eight candidates for the state assembly polls.
The party has fielded Tony Rodrigues from the Taleigao assembly seat and Rajesh Verenkar from the Ponda constituency. Former Chief Minister Digambar Kamat and Sudhir Kanolkar will also contest from the Margao assembly seat and the Mapusa assembly seat, respectively.
The 2022 Goa elections will be held in February to elect 40 members of the legislative assembly, where 21 seats are needed for a majority.