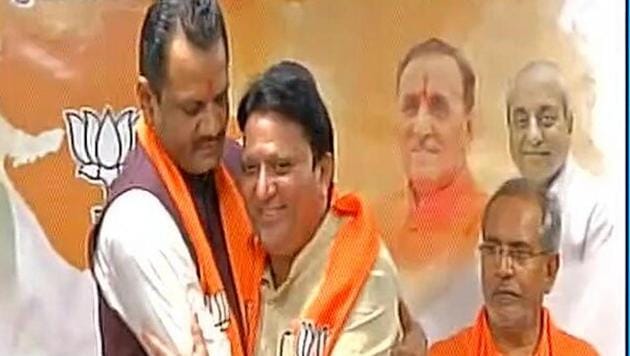 3 Gujarat MLAs who quit Congress join BJP in Amit Shah's presence
The resignations of the three Gujarat Congress legislators threaten Ahmed Patel's chances in the Rajya Sabha elections.
UPDATED ON JUL 27, 2017 09:25 PM IST
In what has endangered Ahmed Patel's winning chances in the forthcoming Rajya Sabha elections from Gujarat, three Congress lawmakers on Thursday resigned from the legislature and the party.
Balwantsinh Rajput, Prahlad Patel and Dr Tejshree Patel joined the BJP when party Chief Amit Shah arrived at state headquarters in Gandhinagar on Thursday evening. Rajput, a close aide and brother-in-law of former Chief Minister Shankersinh Vaghela, has been announced as the party's third candidate from Gujarat for Rajya Sabha election.
The BJP has already announced the candidatures of Shah and Union Textile minister Smiriti Irani from Gujarat for the August 8 elections. Along with Shah and Irani, Rajput is also likely to file his nomination for the RS poll on Friday.
The three resignations from the Congress took place a day after its lone candidate Ahmed Patel filed his nomination for a fifth consecutive term, claiming Vaghela's support.
Vaghela had disassociated himself from Congress on July 21, a day after Presidential poll results revealed that 11 Gujarat Congress MLAs had cross voted in favour of the NDA candidate Ram Nath Kovind.
According to sources, more Congress MLAs, who are seen as staunch supporters of Vaghela, are likely to resign before the RS polls. It may include Vaghela's MLA son Mahendrasinh and another close aide Raghavji Patel among others.
Ahmed Patel, political secretary to All India Congress Committee president Sonia Gandhi, needs at least 46 votes of the now total of 54 Congress MLAs.
Instead of 182, with three have resigned today, now there are total 179 MLAs left in Gujarat assembly. Between Shah and Irani, the BJP will need 92 votes. Given the BJP has at-present 121 MLAs, the party will have 29 votes in spare.
"The cross-voting in presidential poll revealed that Congress was losing its 11 MLAs. And, three now already have resigned," said a BJP leader.
Believing that they have the support of the other nine Congress MLA that cross-voted, with three having resigned today, the BJP has been trying to field a third candidate. But for that it will require an additional eight votes to ensure a win for its third candidate.
On the other hand, if those nine Congress MLAs again indulge in cross-voting, Ahmed Patel will have to bank on 46 Congress votes , two NCP votes and a vote of BJP rebel MLA Nalin Kotadia. Both the NCP MLAs were also seen by Vaghela's side at the July 21 event where the veteran announced his resignation as Congress Legislative Party Leader.
Chottu Vasava, a lone JDU MLA, who refrained from voting in the presidential poll, is expected to vote for the BJP, given the BJP-JDU alliance coming to power in Bihar on Thursday.
"We were not able to work in the Congress," said Rajput, Jayshree and Prahlad soon after joining the BJP .
"The moment I came to know today that they have resigned from party as well as MLA, I contacted them and welcomed them to the BJP,'' said BJP state president Jitu Vaghani
Claiming that the BJP has indulged in politics of divide and rule, Congress spokesperson Dr Manish Doshi said, "The party has given whip to all its MLA s to vote for Ahmedbhai. And, he is winning."
Close