Gorakhpur tragedy: How a doctor stepped up in desperate times to save lives
Updated on Aug 13, 2017 12:27 PM IST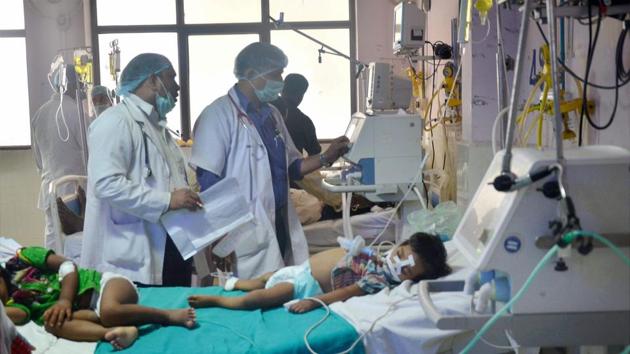 Crisis brings out the best in some people.
At a time when all hell broke loose in Baba Raghav Das (BRD) Medical College following alleged disruption of oxygen supply, one man — Dr Kafil Ahmed — answered the call of duty.
As patients began collapsing due to lack of oxygen, the man in charge of the encephalitis ward rushed to the ward and made last-ditch effort to save lives.
For several hours, Dr Kafil became a one-man army for the junior doctors and hospital staff, giving them instructions and showing attendants how to provide artificial respiration to patients.
However, things gradually began getting out of control.
With supply of new oxygen cylinders still two-and-a-half hours away at around 7.30am on Thursday, it did not take Dr Kafil time to realise that the desperate situation required desperate measures.
He rang up around half-a-dozen suppliers of oxygen cylinders in the district.
Only one, Mayur Gas, agreed to give them the cylinders, provided that the down payment was made strictly in cash.
With no time to lose, Dr Kafil took out his ATM card and sent one of his office staff to get the cash from the nearest teller machine.
He then took out whatever money he had in his pocket and gave it to the truck driver of Imperial Gas Service from Faizabad to buy fuel and rush to Khalilabad to get supply.
The oxygen shortage in the paediatric ward, meanwhile, only made things worse.
Without wasting time, Dr Kafil got into his car, drove down to the private hospital of his friend and borrowed three jumbo oxygen cylinders, put them in his car and rushed back to BRD.
Meanwhile, owner of Mayur Gas agency reneged on his promise to refill the cylinders.
Dr Kafil brought the matter to the notice of the authorities and sought their help but by then it was too late.
Several attempts by HT to get in touch with Dr Kafil, however, proved futile as his cellphone remained out of network coverage.
Ironically, it was another supplier, whose contract was not renewed by the hospital authorities, who came to the rescue.
"When we came to know about the shortage of oxygen and the deaths following it, we supplied around 200-300 cylinders to the hospital out of humanity," Praveen Modi, owner of Modi Chemical Private Limited told news agency ANI.
BRD hospital still owes him ?20 lakh.
"Since March, the medical college administration had stopped dealing with me and given the tender to an Allahabad company," he said.