Migrants could get a job in any state as domicile quotas may go
Updated on Feb 20, 2017 07:38 PM IST
Domicile provisions in laws relating to work can place migrants at a disadvantage in terms of employment, the panel has said. In India, migrants constitute approximately 29% of the workforce.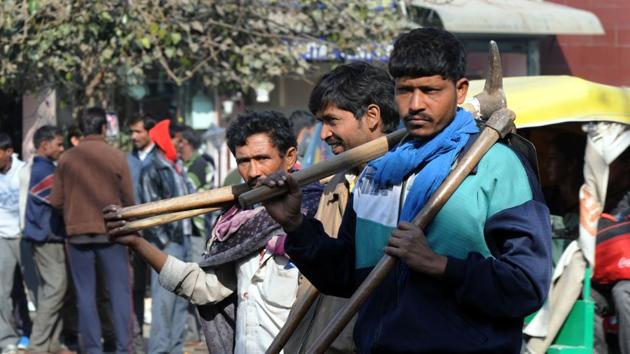 Cut off from subsidised ration. Deprived from welfare schemes. Harassed and assaulted for just being "outsiders".
But the long sufferings of migrant workers in India could be a thing of the past if the government accepts the recommendations of a panel that looked into the working conditions of millions of people who move to other states in search of better opportunities.
In India, migrants constitute approximately 29% of the workforce but are often cut off from government schemes including the benefits of subsidised ration in fair price shops. The Working Group on Migration constituted by the Union ministry of housing and poverty alleviation has recommended that states should do away with domicile provisions in laws relating to work that place migrants at a disadvantage in terms of employment.
In many states such as Maharashtra strong anti-outsider sentiments have led to attacks on migrant workers over fears of them usurping job opportunities of local residents.
Read | A combination of aspiration and desperation is fuelling migration in India
In its report submitted last month to the ministry, the panel headed by Partho Mukhopadhyay, senior fellow at the Centre for Policy Research, has pushed for portability of public distribution system (PDS) benefits across fair price shop system, affordable housing options and setting up of migrant helpline to provide information about protections and benefits available to them.
Under the PDS, ration cards are invalid in their work state. The panel has recommended "expanding" and "accelerating" portability of PDS as well as healthcare benefits within states with appropriate technology and universal coverage.
Read | Delhi, Gurgaon, Gautam Buddh Nagar favourite with migrants: Economic Survey
"Many argue that the provisions outlining domicile/minimum duration of local residence are required in order to protect local workers. But these arguments are ill-founded and mischievous…What is needed are strong regulations pertaining to wages and conditions at work, which would prevent all workers -- local or migrant -- from being exploited," said Indrajit Roy, research fellow, Department of International Development, University of Oxford.
Roy, the principal investigator of University of Oxford's study titled Lives on the Move said that some states are already ahead on the curve.
"For example, Punjab is one of the states to have instituted a migrant welfare board and Kerala inaugurated an inter-state migrant worker scheme, implemented through the Kerala construction workers' welfare fund."
Read | Modi's 'achhe din' reality check: Pressure builds to deliver on election promise
The 2017 Economic Survey report has also recommended portability of PDS benefits.
"These migrants depend either on their employer or labour contractor for food provisions or purchase food in the open market. This significantly increases their cost of living and reduces the additional earnings they might hope to remit to their families," Roy said.
The ministry is yet to take a call on the working group's report.
"Implementing these recommendations is easier said than done. It is the states, which will have to implement them and they may not agree because of political pressures," said a government official.
Personalise your news feed. Follow trending topics